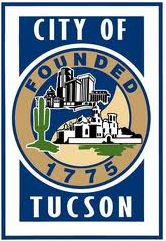 TUCSON, Arizona - The Mayor and Tucson City Council Tuesday night approved the annexation of the Swan and Valencia East Annexation District. The annexation will take effect in 30 days to Ward 5.
The area is located southeast of Swan and Valencia and north of the Los Reales Landfill, as well as north and south of Craycroft and Interstate 10. It encompasses approximately 652 acres, including right-of-way, and is currently a mix of residential and commercial properties. There are 1,384 taxable parcels in the area, with 1,296 unique, distinct property owners and approximately 41 acres of vacant land zoned for residential development.
There is a large residential subdivision, Rancho Valencia, that has been developed within the last 10 years, as well as the Littletown subdivision, which was developed in the 1950's and 1960's. The area also contains Triple T Truck Stop, Freightliner, Circle K, Taco Bell, Pilot and several other small businesses.  It is within the obligated water service area for Tucson Water.
City officials estimate that, after costs, there will be net revenue of more than $9 million over 10 years. Some of the costs include setting aside up to $200,000 per year over the first five years for health and safety improvements throughout the area, including a pedestrian walking path and upgrades to drainage and lighting.
Staff began collecting signatures in favor of the annexation on February 24, 2017. To complete the annexation, 649 signatures representing at least $8,830,673 in assessed value were required. To date, staff has collected 697 signatures representing $8,861,957 in assessed value.  A public hearing was held on February 22, 2017. At the close of the public hearing Mayor and Council directed staff to proceed with the annexation.
Also approved at this week's meeting was the final plat of the Irvington and I-19 Commercial Center for 47 commercial lots. Located at the northwest corner of I-19 and Irvington the 62.81 acre property is owned by Irvington Interstate Investors LLC, an affiliate of Bourn Companies, (Don Bourn, manager).
Additional business included approval of a final block plat involving 10 blocks on 319 acres at Saguaro Trails (Ward 4). The property is located southwest of Houghton Road and Irvington, and is owned by Mattamy Homes. A portion of this new master planned community was acquired from the City of Tucson as surplus land. See Real Estate Daily News March 2016.