City of Tucson Buys "Bridge Housing" for Homeless with Pandemic Relief Funds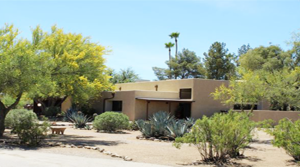 TUCSON, ARIZONA – The City of Tucson purchased Desert Cove Country Club, a Senior Living Facility at 1833-1835 W. Anklam Road in Tucson for $1.175 million ($90 PSF) using federal pandemic relief funds.
The 13.032-square-feet of mixed-use space in two buildings sits on 4.5-acres. Desert Cove Country Club was formerly a nunnery turned senior living facility, that will soon provide bridge housing for homeless people. The city will partner with Community Bridges to help oversee the program, "Bridge Housing" and is expected to be operational at this site by the end of the year.
The City of Tucson will receive more than $135 million in federal pandemic relief money through the American Rescue Plan. In addition to the money for Tucson, Pima County will receive over $200 million as part of the same program.
Tucson has chosen to set its focus on the need for affordable housing.
According to the Tucson Pima Collaboration to End Homelessness, from 2019 to 2020 there was a 60% increase in unsheltered homeless people in Pima County, going from 218 to 363. There are thousands more homeless who receive some form of shelter from different private organizations.
The goal of the program is to help people move from homelessness to independence over a 90-day period, or until they can find permanent housing. Located on Tucson's west side, the gated community is near St. Mary's Hospital and was originally a home for the nuns who worked at St. Mary's Hospital.
Allan Mendelsberg, Principal, and Conrad Martinez, Multifamily Specialists with Cushman & Wakefield | PICOR represented the seller, 25JAK Properties, LP (Patrick Stojak, manager) in the transaction.
The City was represented in-house by Thomas Crawl, Real Estate, Department of Transportation for the City of Tucson. For additional information, Mendelsberg should be reached at 520.546.2721 or Martinez at 520.546.2730.
To learn more, see RED Comp #8969.