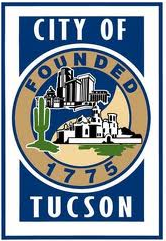 The City of Tucson Mayor and Council adopted Ordinance No. 11386 recently, intended to ease the administrative process for improvement in privately and publicly owned right-of-way areas.
It was moved by Council Member Romero, duly seconded and PASSED by a roll call vote of 6 to 0 (Council Member Scott absent/excused), to PASS and ADOPT Ordinance No. 11386.
The ordinance applies only to future major street right-a-ways and only to streets that don't have plans for future widening, Dan Bursuck with Tucson Planning and Development Services told us.
The revised UDC Section 5.4 (Major Streets and Routes Setback Zone) introduces an administrative approval process for minor MS&R adjustments modeled after existing UDC code exceptions.
The MS&R text amendment would allow for a streamlined review process.  Prior to this, each proposal that includes use of right-of-way would need to be granted approval by Mayor and Council.  This amendment allows for an internal review process modeled after UDC Section 7.4.5 Reduction and Exceptions for projects in which both the PDSD Director and the Tucson Department of Transportation (TDOT) Director have made a finding of no adverse effects for the City. The MS&R setback relief would only apply to future right-of-way with no TDOT plans for expansion, and must conform to Plan Tucson and all neighborhood and area plans. Setback relief does not apply to scenic routes.
Based on feedback from Planning Commission and comments from the public meeting, a clarification regarding scenic routes was added and one of the proposed required criteria (Section 5.4.5.7.D.8) related to setbacks was removed.
Quentin Bryson, chairman of the Planning Commission, who was in favor of the change said, "The changes are 'common sense' and way overdue and will help developers with revitalization of older properties where exceptions are often needed to the setback."
For more information, Dan Bursuck can be reached at City of Tucson Planning Department at 520.837.4984.
To read the amendment summary: MCComm re UDC Text Amendments