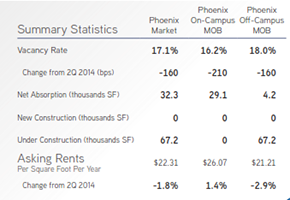 Colliers is reporting vacancy in the Greater Phoenix medical office building (MOB) market ended the second quarter at 17.1 percent, 160 basis points lower than one year earlier. Vacancy in on-campus buildings is 16.2 percent and trending lower with MOB demand gaining momentum.
Asking rents have been mixed, declining for most of the past year, but inching up a bit in the second quarter to an average of $22.23 per square foot. One segment of the medical office market that has seen strong declines has been in the large, off-campus buildings. These buildings face competition on a number of fronts, including existing buildings and build-to-suit construction.
Mergers and acquisitions remain a major storyline in the market. Banner Health's acquisition of the University of Arizona Health Network caused Banner to become the largest private employer in the state.
Sales of medical office condos ticked higher in the second quarter, outpacing levels from the first quarter by 9 percent. Despite the rise, sales velocity in the first half of 2015 is down nearly 30 percent from levels recorded in the first half of last year.
Sales activity for non-condo medical office buildings advanced 10 percent during the second quarter, building on momentum from the first three months of the year. Compared to the first half of last year, sales velocity for non-condo medical office buildings has spiked 50percent thus far in 2015.
While sales activity has been mixed as far as transaction volume is concerned, pricing is showing a clear upward direction. The median prices for both medical office condos, as well as non-condo MOBs have advanced by double-digit percentage gains from 2014 levels.
After being Greater Phoenix's leading sector for employment growth from 2008-2010, the pace of expansion in the healthcare sector slowed following the passage of the Affordable Care Act. Recently, however, local growth in healthcare employment has accelerated, which will ultimately translate to increased tenant demand for space.
One reason employment growth in the healthcare sector is back in full swing is the resumption of healthy population growth in the Phoenix metro area. Local population growth slowed to approximately 1 percent per year during the recession, but the rate accelerated in 2014 and current forecasts call for return to annual gains of 2.5 percent or higher in the coming years. This population expansion will be the fuel that sustains demand for healthcare in the Greater Phoenix market in the years ahead.
See the full report here Greater Phoenix Medical Office Report_2Q 2015