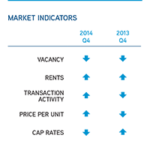 Colliers reports that the Greater Phoenix multi family market continued to strengthen in Q4 2014.
- Multifamily vacancy fell to 6.2 percent in the fourth quarter. The rate retreated 30 basis points from the third quarter and fell 110 basis points from the end of 2013. This marked the fifth consecutive year where vacancy has improved.
- Vacancy is trending lower due to robust absorption even as new units are delivered to the market. Net absorption surged 25 percent from 2013 to 2014, reaching more than 5,800 units for the year. Net absorption has now been positive in each of the past 12 quarters.
- Asking rents are surging in response to healthy renter demand for apartments. Asking rents increased 4.1 percent in 2014 to $819 per month, with the strongest gains recorded in the fourth quarter. The South Scottsdale submarket posted the strongest annual increase, gaining 12.9 percent in 2014. Above-average increases have also been recorded in Central Phoenix, Tempe and Gilbert.
- Sales activity ticked higher in the fourth quarter, bringing the increase for the full year to 24 percent. Deals of $20 million or more accounted for 40 percent of all activity in the market for the second consecutive year.
- Improving fundamentals helped push prices higher in 2014. The median price reached $69,700 per unit for the year, 10 percent higher than the 2013 median.
- Average cap rates dipped below 6 percent for the year, and for newer product, cap rates are in the mid-4 percent to low-5 percent range.
While market fundamentals are flourishing, the primary external threat to the multifamily investment climate is the prospect of Federal Reserve action. Rising interest rates—perhaps as early as the second half of 2015—would add a layer of uncertainty to the market that could stifle transaction activity.
To see the full Colliers Phoenix Multifamily Research & Forecast Report click here: Phoenix Multifamily Market Report 4Q14