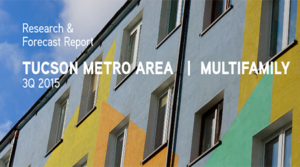 The Tucson employment market strengthened in the third quarter, with more net jobs added during the last three months than at any point in nearly a decade. This strengthening employment performance is supporting renter demand for apartment units.
Vacancy improved in the third quarter, with the rate at a cyclical low. With the pace of new construction slowing, vacancy should continue on its downward trend.
Asking rents began to show signs of momentum during the third quarter, posting the largest quarter-over-quarter increase in more than five years.
Investment activity is healthy, with sales velocity well ahead of last year's pace and more properties trading each quarter. The fourth quarter is typically a very active period, and the total transaction count should reach a nine-year high in 2015.
Healthy hiring activity and the resumption of the school year helped drive vacancy to a cyclical low of 8.2 percent in the third quarter. Class A vacancy is down to 5.6 percent.
Asking rents are on the upswing, rising 1.4 percent in the third quarter alone to reach $651 per month. Over the past 12 months, asking rents have increased 2.4 percent, with additional gains forecast for the remainder of this year and 2016.
Sales of apartment buildings continue to accelerate, and total activity this year will reach the highest point since 2007. The average cap rate has been 6.6 percent thus far in 2015.
To read the full Colliers Report click here