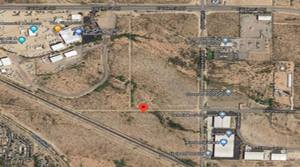 TUCSON, ARIZONA — Sepp and Affiliates, LLC (Eric Sepp, Managing Member) of Monument Colorado purchased a 27.4 acre parcel at Littletown and Wilmot Roads, in Tucson for $950,000 ($.80 PSF).
The parcel was platted into 24 one-acre industrial lots plus common areas.  This Tucson Industrial Zoned I-2 Parcel is strategically located one mile north of  I-10 on Wilmot Rd and convenient to the Amazon Fulfillment Center and the Tucson International Airport.  The Seller was a group of local investors lead by Steve Russo.
Sepp intends to offer developed industrial lots, build and lease to suit user properties to industrial and manufacturing users.
The Buyer was represented by Blake Allen, EMS of Blake Allen Realty in Manitou Springs, CO and Dan Arnold, EMS of Keller Williams, Yuma, AZ.  The Seller was represented by Tom DeSollar, EMS, Arizona First Properties, LLC, Tucson, AZ. All three brokers are members of the National Council of Exchangors (NCE).  Allen and DeSollar are on the Board of Directors of NCE.
For more information, Allen can be reached at (719) 684-4123, Arnold at (928) 580-9857 and DeSollar at (520) 400-2732.
To learn more, see RED Comp #8246