The following commercial leases from Tucson and Phoenix were reported to the Real Estate Daily News from May 15 thru 19, 2017.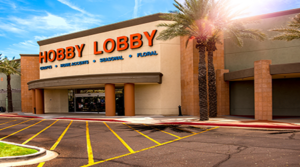 Hobby Lobby to Open at Scottsdale 101 Center Q1 2018
Phoenix, Arizona — Velocity Retail Group's Dave Cheatham represented Hobby Lobby Stores, in a lease at the Scottsdale 101 shopping center located at the northwest corner of Mayo Boulevard and Scottsdale Road.  The 57,500-square-foot store is expected to open in the first quarter of 2018.
The store will be adjacent to a newly designed Ashley Furniture store of approximately 44,000-square-feet.  This will be the eleventh Phoenix area location for Hobby Lobby negotiated by Cheatham.  "Hobby Lobby has expanded their store presence throughout the Phoenix area over the past several years.  North Scottsdale has been underserved, and this location fills a huge void for the northeast part of the Valley.  We continue to look for new opportunities throughout the Phoenix area," said Cheatham.
Velocity Retail has worked with Hobby Lobby on their store locations in the Phoenix area since 2005.  Today Hobby Lobby currently operates more than 750 locations in 47 states. The company is on track to open 60 new stores nationally this year.
Other commercial leases included:
RETAIL – 13390 W VAN BUREN, GOODYEAR, AZ
Ministerios Casa de Oracion leased 2,900-square-feet in Central Square Shopping Center to was recently consummated.  The location of the property is 13390 W. Van Buren in Goodyear, AZ. Richard Mackay and Kevin Roessler of Rein & Grossoehme represented the owner and the tenant.
RETAIL – 820-840 E INDIAN SCHOOL RD., PHOENIX, AZ
Sage Beauty Supply leased 1,760-square-feet of space at 820-844 E. Indian School Rd. in Phoenix, AZ. The owner of the center is Katsenes & Stamatis Partnership. Kevin Roessler of Rein & Grossoehme represented the Landlord and Tenant.
RETAIL – 5627 E 22ND ST., TUCSON, AZ
Ken and Billi Jo Koepke leased approximately 1,200-square-feet at 5627 E. 22nd Street, Tucson, Arizona, from DG Commercial, LLC.  Frank Arrotta of Tucson Realty & Trust Co. represented both the Landlord and the Tenant in the transaction.
Submit sales and leases to REDailyNews@outlook.com