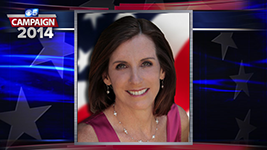 Shock waves ran through Southern Arizona yesterday as the idea of a second Republican being elected to Congress from Southern Arizona since Arizona joined the Union began to sink in. The first Republican elected was Jim Kolbe only 72 years after statehood, who served for 10 terms while Southern Arizona thrived, I might add.
As the final Congressional District 2 votes were counted Tuesday afternoon, Republican challenger, Martha McSally's lead over Rep. Rob Barber eroded to 133 votes, but a lead is still a win. While McSally has led the count from the very beginning and today is the apparent winner, the reaction of both parties has been one of shock and skepticism, simply because this is Southern Arizona. In the past 102 years, Southern Arizona has only had a Republican representative from Southern Arizona, once. Is that seat owned by Democrats?
It seemed to be the case Monday, when a judge denied McSally's move to block a number of provisional ballots that had not been handled correctly by poll workers, and came in without signatures to show poll worker(s) had verified their voter eligibility according to State procedures. Deputy County Recorder Christopher J. Roads testified at Monday's hearing that the State manual directive (page 182) states that "a provisional ballot shall not be rejected solely for lack of signature on the affidavit by polling place election officials."
So, while Barber led easily in the count of outstanding early and provisional ballots in Pima County, 52% to 48% among Pima voters overall, it wasn't enough for him to overcome McSally's lead in Cochise County, where she won with 60% of the vote.
The current totals in CD 2 are 109,539 for the Republican challenger, and 109,406 for the Democrat incumbent. An update released Tuesday around 3:00 p.m., said there are only a handful of remaining ballots that could possibly be added to the count and not enough to change the lead.
Officials are reporting there are also about 200 "conditional-provisional" ballots that may be added to the tally if those who cast them show up and can provide proof of their voter registration before 5:00 p.m. Wednesday, the deadline. However, it's unknown how many of those ballots are from CD 2 to change anything.
An automatic recount we are told should occur if the difference between the candidates is 200 votes or less, or less than 0.1% of all the ballots cast in the race. But automatic, doesn't mean 'quick'; the election official we spoke to said the recount would not take place until December.
According to social media, Democratic Party staffers are working to contact voters who cast provisional ballots and are able to verify their identities within the law.
Noting that this is "the closest congressional election in Arizona history," Barber's spokeswoman Ashley Nash-Hahn said Tuesday that "we remain committed to protecting the integrity of the vote in Southern Arizona. In Pima County, 782 voters had their ballots rejected, and those votes have not been counted. During the legal recount process, we will work to see that every lawful vote is counted." Those 782 ballots were deemed ineligible for multiple reasons by Pima County Recorder's Office, that's how election integrity works.
"There are still ballots left to count, but we are confident that when all ballots are in, our lead will hold," McSally posted on her Facebook page Tuesday evening. "We will continue to provide oversight of the process until then."
Of course we're also kind of pleased to see our election predictions and RealtyTrac's methodology hold true and get the chance to say "We called it – Wow!"
To read the Oct. 24th Real Estate Daily News election predictions click here
UPDATE: On Wednesday the final ballots were counted giving McSally a 161 vote lead. It has also been brought to my attention since first writing this that McSally will also become the first woman Republican elected to Congress from the State of Arizona, making this election even more historic than first thought.