Conor Commercial & Globe Corp. Sell AZ|60 Industrial for $27 Million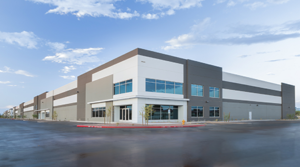 U.S. Trust, Bank of America Private Wealth Management Acquires 225,600 SF Property
PHOENIX, Arizona – On behalf of Conor Commercial Real Estate and Globe Corporation, Cushman & Wakefield announced the firm facilitated the sale of AZ|60 Industrial, two buildings totaling 225,600-square-feet (sf) in the Southeast Valley. U.S. Trust, Bank of America Private Wealth Management facilitated the purchase on behalf of a family office for $27 million.
Executive Managing Director Will Strong led the Cushman & Wakefield Capital Markets team on the sale. He stated, "AZ|60 Industrial represents the best of the best in industrial real estate: modern, functional, and developed by one of the best development partnerships in Phoenix and across the U.S. Conor Commercial Real Estate and Globe Corporation purchased the land, leased the assets, and sold at a major premium, setting a new high watermark for product like this to trade."
AZ|60 Industrial is a brand new core, state-of-the-art industrial park located in the heart of the Southeast Valley, at 1343 North Colorado Street in Gilbert, Arizona. Situated on 16 acres, AZ|60 Industrial features a 30' clear height, ESFR sprinklers, 100 percent concrete truck courts, ample dock and grade level loading, and is positioned as a market leader in amenities sought after by today's tenants. Currently 92 percent leased, the property can accommodate up to 13 users with suite sizes ranging from 9,360 SF to a full building user at 120,700 SF. Steve Larsen and Bill Honsaker with JLL are the leasing agents on the property and will continue to lease the property going forward.
"Industrial capital markets continues to be aggressive, as we had tremendous interest from a variety of buyer types for this asset," added Strong. "Due to the aggressive market conditions, AZ|60 Industrial sold for a record breaking price per square foot and cap rate."