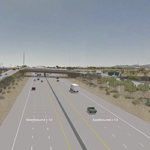 TUCSON, Ariz. – Sundt-Kiewit, a joint venture between Sundt Construction, Inc. (www.sundt.com) and Kiewit Infrastructure West Co. (www.kiewit.com), has broken ground on the Interstate 10/Ina Road Traffic Interchange reconstruction in Tucson, Arizona.
The project aims to reduce traffic delays and increase safety by eliminating the existing at-grade crossing of Ina Road and the Union Pacific Railroad and building an overpass that takes Ina Road over I-10.
Work includes widening I-10 to four lanes in each direction and Ina Road to two lanes in each direction from Silverbell Road to Camino Martin. The team will also build two structures over the Santa Cruz River, and the eastbound and westbound frontage roads will be elevated to intersect with Ina Road's new vertical alignment.
Expected to be completed in 2019, the project also features water and sewer relocations, grading and asphalt concrete placement, as well as new and expanded concrete box culverts and retaining walls, drainage facilities, traffic signals, signage, pavement markers, lighting, and landscape and irrigation along the interstate, frontage roads and Ina Road.
Sundt Construction, Inc. (www.sundt.com) is one of the country's largest and most respected general contractors. The 126-year-old firm is known nationally for its commitment to quality and innovative approach to construction services. Sundt currently is ranked the 77th largest construction company in the United States by ENR, the industry's principal trade magazine. The general contractor has offices in Tempe and Tucson, Arizona; San Antonio, Fort Worth and El Paso, Texas; and Irvine, Sacramento, San Diego and San José, California.