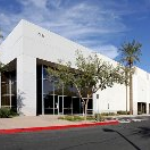 TEMPE, AZ – Portland, OR-based Consumer Cellular leased 85,245 square-feet of back office space at Tempe Commerce Park, Bldg. F, 7410 S. Roosevelt St. in Tempe. The 8-year lease begins this spring and comprises the entire building footprint.
Lee & Associates Principal Rick Lee represented the Scottsdale based ownership of Walton-EH Tempe Commerce JV VI, LLC (Everest Holdings).
Mike Nye of Capacity Commercial of Portland, OR represented the tenant, Consumer Cellular.
Consumer Cellular is one of the largest no-contract cellular phone provider in the U.S. Its business model is geared to consumers who prefer a low cost, no commitment phone service. The company consistently ranks high in consumer surveys including a top company to work and most innovative along with accolades from Careerbuilder, Inc. Magazine and Ernst & Young.
The Class B, flex building offers 5:1,000 parking and is situated on the 6.5 AC back office/distribution Tempe Commerce Park. The property offers convenient access to the I-10 Freeway and is a short drive to Phoenix Sky Harbor International Airport.
For more information contact Rick Lee, Principal at (602) 954.3742.