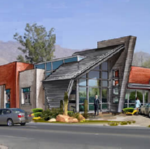 Coopers DIY, LLC of Tucson, dba Mr. Beer, purchased the property at 3366 N Dodge Blvd in Tucson for $906,000 ($72 PSF) for a new store location for Mr. Beer kits. The 12,640-square foot retail building (built 1980) was sold by Commerce Bank in an REO sale.
Coopers Brewery is a family owned brewery with 150 years of experience behind them, and is the world's largest manufacturer of brewing malts. Mr. Beer®, established in 1993, is the world's largest producer of home brewing systems. Coopers joined with Mr. Beer® in early 2012, and the world's # 1 home brewing powerhouse was born!
Mr. Beer® brewers scored BIG with this merger and have made it easier than ever to brew your own beer at home. It's legal in all 50 states now (Alabama being the last to sign into law on May 9, 2013), and affordable brewing equipment and ingredient kits are what Coopers DIY offers under the name of Mr. Beer.
And since Coopers is teeming with information and nice folks eager to help you at Mr. Beer, it's hard to find a reason to say "no" to homebrewing. Instead, we have researched and found five reasons to go for it:
#1 Reason: You'll have fun: You'll be working with fire and a cauldron of boiling water, like in Macbeth, plus it makes you feel a little like an outlaw, forging your own path and engaging in slightly suspicious (although perfectly legal) behavior. There's some heavy lifting, but overall, brewing beer is an awesome way to spend an afternoon.
#2 Reason:You'll save money (well eventually): Gear wise, all it takes to get started is a cheap five gallon stock pot and a basic starter kit from Mr. Beer. This will run you about $100, but if you stick with brewing, these start-up costs will get spread out across many batches of beer. However, from what we were able to research, it'll take less than four batches to recover your equipment costs and have a fridge stocked with craft-quality beer.
#3 Reason: You'll make new friends: I've heard (at least once) that "beer people are good people" and this is never more evident than when you're talking about homebrewers. There are thriving communities on the internet just waiting to help a newbie brewer get their first batch to come out just right, and then there's people at every homebrew supply shop across America who are happy to point you in the right direction. You'll be surprised how much support and guidance folks are willing to provide, mostly because they've been where you are and someone was there to help them, all you have to do is ask.
#4 Reason: You'll learn a whole lot about beer: If you like to cook, then you know your culinary experiences at home allow you to deconstruct and better appreciate the work of a chef in a fancy restaurant. The same holds true for brewing your own beer. Brewing beer is the single best way to educate your senses, smelling, touching and tasting the raw ingredients make you better at understanding the work of others.
#5 Reason: You'll feel proud: It's an awesome feeling to take a sip of a beer you made yourself and realize that you totally nailed it! It isn't hard to homebrew up a respectable batch of beer, but to create something that would make a master brewer blush is a feeling of triumph. That's when your self-esteem jumps up a notch or two and you want nothing more than to duplicate that batch again.
Getting started is as easy as visiting the Mr. Beer store today at their company headquarters at 5620 N Kolb Road, Suite 205 Tucson, AZ, where everything is laid out for you, or you can go to their website at https://www.mrbeer.com.
Ron Zimmerman, Commercial Specialist with Cushman & Wakefield | Picor represented the seller in this transaction while Ryan McGregor with Keller Williams Southern Arizona represented the buyer.
Zimmerman should be reached at (520) 546.2755 and McGregor is at (520) 886.8282 for more information.
Login for additional information.
[mepr-show rules="58038"]Sale date: 12/31/2013. Buyer paid all cash. APN: 111-04-033B. Property was formerly occupied by Triumph Builders SW.[/mepr-show]