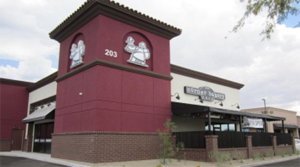 Updated 11/22/2019
TUCSON, ARIZONA –  Three years after it opened, Corner Bakery Café closed its doors last week at 203 S Wilmot Road in Tucson. The the Texas-based fast-casual soup-sandwich-dessert restaurant was part of a chain and one of only two locations in Arizona.
The property sold on November 15th to RE NO One, LLC (Eric Lester, manager) for $1.8 million ($400 PSF) from SJV-JJG II, LLC (James Gore, manager).
The seller was from El Paso and a franchisee of Corner Bakery who wanted to return home. The buyer is a large Carl's Jr and Core Life Eatery operator that plans to fill the space with a "new concept".
Corner Bakery Café opened in summer 2016, right next door door to another national café chain Kneaders Bakery & Café, which opened in 2015.  With only a driveway separating the properties, both restaurants served similar fare: fresh baked goods, handcrafted soups and craft salads and sandwiches.
Kneaders Bakery & Cafe is still open and Kneaders also has a location in Oro Valley.
The vacated Corner Bakery Café will soon have a new occupant but who that will be remains a mystery for now.
The property had been marketed as a sale leaseback and closed in 19 days from opening escrow in an all cash deal.
For additional information, Vincent Knipp of The Knipp Group of Marcus Millichap and Ryan Sarbinoff with Marcus & Millichap of Phoenix handled the transaction for the seller. The buyer was represented by Braden Crockett with Matthews Real Estate Investments of California.
Knipp should be reached at 972.755.5205 and Crockett can be contacted at 214.692.2040.
To learn more, see RED Comp # 7307.