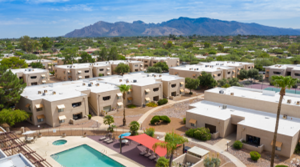 TUCSON, ARIZONA – Sabino Canyon and Sun River Apartment Homes with an aggregate of 482-units sold recently to Atlanta-based Cortland Growth and Income Group for over $99 million ($205,500 per unit).
Cortland Sabino Canyon Apartments is located at 4880 N Sabino Canyon Road in Tucson with 188-units, minutes away from Sabino Canyon Recreation Area and Catalina Foothills Unified Schools. Built in 1988, the luxury community offers a world of opportunity near the Tucson foothills with scenic mountainside views and private patios and balconies for all the one- and two-bedroom apartments home.
The asset was purchased for $41 million ($218,100 per unit).
Sun River Apartment Homes is located at 5100 N La Canada Dr in Tucson with 294-units, at River and La Canada. Built in 1984, and features a choice of one- or two bedroom floor plans, three gorgeous swimming pools, lush landscaping, gated entry and easy quick access to the northwest, Tucson foothills, freeway, shopping malls, Northwest Hospital and  . Luxury extra-large apartments, ample storage space, full-size washer and dryer, outdoor patio or balcony come with views of the mountain views of the Catalina Mountains.
The asset was acquired for $58,050,995 ($197,500 per unit).
Art and Clint Wadlund with Berkadia Real Estate Advisors Tucson represented the seller, a private investor from Malibu, CA in the transactions.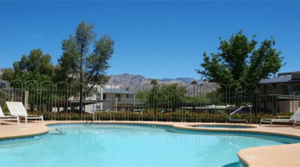 This is the fourth Tucson apartment community acquired by Cortland. It also purchased Casas Lindas at 699 West Magee Road and Cortland on the Loop Apartments at 1925 W River Road a few months earlier. See Real Estate Daily News for earlier sale.
Cortland is a vertically integrated multifamily real estate investment, development and management company focused on delivering resident-centric, hospitality-driven apartment living experiences. Headquartered in Atlanta, Cortland manages and is invested in, directly or indirectly, nearly 200 apartment communities comprised of more than 65,000 homes in the U.S. with regional offices in Charlotte, Dallas, Denver, Houston, Orlando and Tampa. Cortland has significant experience in acquiring, developing, renovating, owning and operating multifamily communities leveraging the services of its construction, design, and property, asset and investment management affiliates. Internationally, Cortland operates a management and development platform in the UK. For more information, please visit cortland.com.
For additional information, Clint Wadlund can be reached at 520.615.1100 and Art Wadlund should be contacted at 520.299.7200.
To learn more, see RED Comp #9271 and #9272.