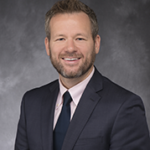 Phoenix, Arizona – CBRE is pleased to announce John Kevil has joined the firm's Phoenix office. Mr. Kevil is a Director who will focus on expanding the firm's cost segregation service offering in Arizona and across the Western U.S.
"I'm pleased to welcome John to the Phoenix office," said Craig Henig, senior managing director for the Southwest Region and Arizona market leader. "Having served virtually all service sectors, he is well equipped to help our clients with their cost segregation and tax incentive challenges."
Mr. Kevil has 15 years of experience in cost segregation, tangible property regulations, consulting and valuation providing federal and state tax benefits to investors, landlords and tenants. He has worked across property sectors, including multifamily, medical office, high- mid- and low-rise office, shopping centers, restaurants, banking and professional services as well as manufacturing and technology. Additionally, he has extensive experience in fixed asset reclassification for banking institutions, restaurant groups and manufacturing companies.
In addition to cost segregation, Mr. Kevil was previously a commercial real estate appraiser for CBRE in Chicago. He holds a BA from the University of Illinois at Urbana-Champaign.