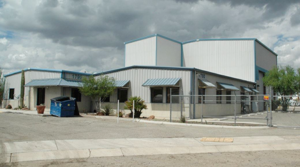 TUCSON, ARIZONA — Vermeer Sales Southwest, Inc. leased 1790 West Sahuaro Drive in Tucson, a 7,853-square- foot industrial building with approximately 1.27 acres from South Central Properties of Texas, Inc.
Vermeer Southwest has had a continuous presence in the southwest United States serving Arizona, New Mexico, and greater Las Vegas since 1989, and now proudly serve the southern New Mexico and West Texas area with our El Paso location. It carries the full-line of Vermeer industrial equipment and partners with seven ancillary brands to offer convenient one-stop shopping; Sherrill, McLaughlin, Vac-Tron, Yanmar, Atlas Copco, DCI and Felling Trailers. It supports products with dedicated, factory-trained sales staff, with an extensive parts inventory, experienced service technicians, and top-notch service facilities.
Vermeer Southwest has many years of experience supplying industrial equipment that can stand up to the most diverse and roughest working conditions the Southwest has to offer. Vermeer Southwest has received the Dealer Platinum Award, the highest award Vermeer Corporation offers, for eleven years beginning in 1999. This accomplishment earned Vermeer Southwest an induction into the Vermeer Hall of Fame. At Vermeer Southwest, it is all about customers and it prides itself on offering consistently exceptional customer service.
Its parts departments are stocked with genuine Vermeer parts and accessories and its parts specialists have access to the most accurate and up-to-date parts manuals through Vermeer's online parts catalog system. It's the right tool to find the parts you need. The service departments have decades of experience supporting Vermeer and other industrial equipment. Through Vermeer University Service Technician Certification Program, service technicians are trained and tested in the latest skills and technologies. With conveniently located service centers and a fleet of fully-equipped service trucks, Vermeer Southwest can service equipment anywhere in the Southwest.
Dean P. Cotlow of Cotlow Company represented the landlord and David Carroll of Romano Real Estate Corporation represented the tenant.
To learn more, Cotlow can be reached at 520.881.8180 and Carroll should be contacted at 520.577.1000