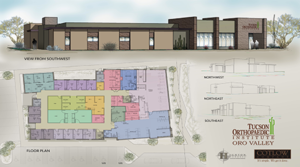 TUCSON, Arizona — Cotlow Company of Tucson (Dean Cotlow, president) will break ground for construction of the new Tucson Orthopaedic Institute facility in Oro Valley April 3rd.  Located at 12315 N Vistoso Park Road in Innovation Park, directly west of the Northwest Medical Center, Oro Valley Hospital. The build-to-suit facility will consist of 10,270-square-feet of clinical, physical rehabilitation and pain management space.
The practice will include five physicians of Tucson Orthopaedic that purchased a 57,498-square-foot lot in Innovation Corporate Center in Oro Valley for $689,976 ($12 PSF) in May 2016. Doctors Jeffrey Baron, Gerard Jeong, William Pickett, Eric Anctil and John Maltry are all physicians at Tucson Orthopedic Institute in other offices at the Northwest Medical Center across the street currently. See RED News May, 2016 story.
Innovation Corporate Center, is strategically located north of the Oro Valley Marketplace and Northwest Medical Center, in the heart of Oro Valley. A Venture West development, the Center offers 100,000-square-feet of professional medical office sites, in building sizes from 1,500-square-feet to 40,000-square-feet.
The building is designed by Highton Company and being constructed by Division II construction.
For additional information, Cotlow should be called at 520.881.8180.
To learn more, see RED Comp #3754.