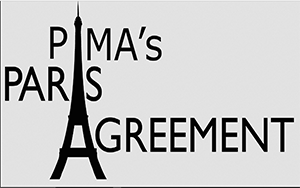 President Recep Tayyip Erdoğan said this week that Turkey would not be ratifying the Paris climate agreement, citing President Donald Trump's decision to abandon the deal as the reason.
Erdoğan asserted that, in Paris, the previous French president (François Hollande) had promised Turkey would be considered a developing economy, rather than an industrialized one, so that it would receive money from a global climate fund for cutting carbon pollution instead of having to pay into it.
When President Trump pulled out of the Paris Accord, he also said the U.S. would not cover $2 billion in annual unpaid commitments to that fund — casting doubt on the fund's entire future, especially its ambitious goal of proving $100 billion a year in financing to developing countries including China by 2020. So, Turkey's ratification of the Paris climate accord hinged on getting a lot of money from this fund.
Unlike his predecessor, Trump has never seemed interested in global governance, for example he came out in favor of the United Kingdom leaving the European Union last year and more recently in his ultimatum delivered to members of the North Atlantic Treaty Organization (NATO) to pay their way (each around 2% of GDP on defense) and not to expect America to cover for them.
Announcing his decision on the Paris Climate Accord, President Trump said the U.S. would "begin negotiations to reenter either the Paris accord or really an entirely new transaction on terms that are fair to the United States."
The withdrawal from the Paris climate agreement represents more of President Trump's philosophy: Putting American taxpayers, employers and workers first. President Trump has demonstrated that "America First" does not just mean acting alone if need be in foreign policy, but also getting the right deal for American commerce and workers, and if this means upsetting the apple-cart of mainstream opinion, be it in Europe or Pima County, then so be it.
Meanwhile this week, the Pima County Board of Supervisors weren't wasting any time to wait and see, and in a 3-2 vote passed a resolution requiring the county to take specific actions to reduce the County's contributions to global warming and meet the goals outlined in the international Paris climate agreement.
The resolution is a follow-up to what has been called the Board's symbolic resolution in June to affirm the county's support of the international Paris climate agreement and express the county's opposition to the Trump Administration's intent to withdraw from the agreement.
The County has been improving its sustainability and conserving energy and water since adopting its Sustainability Action Plan in 2008. Pima Prospers, the county's comprehensive plan for growth and development, has sustainability and conservation requirements incorporated throughout. The resolution reasserts the county's commitment enacting or enforcing the principles of conservation set out in each document.
Therefore, the Board resolution this week requires the County to do the following:
Rapidly scale up renewable energy infrastructure by adding up to 40 to 42 megawatts (MW) of solar photovoltaics (PV), combined with battery storage where feasible, to take maximum advantage of current net metering rates. Solar electrical energy facilities will be erected on all County parking facilities, either garages or surface parking areas. Areas of first priority will be those where the County has large electrical energy loads for building or other facilities.
Increase energy efficiency in the highest energy use buildings older than 40 years through a combination of retrofits and improving employee behavior to reduce electricity use by 20 percent. All County-owned buildings in the downtown will be upgraded through window replacement and improved building insulation.
Create a Pima County Downtown Energy District by interconnecting and adding County-owned buildings to the existing downtown Central Plant.
Continue improving fleet efficiency and electric vehicle (EV) infrastructure by replacing gasoline passenger sedans with EVs and improving employee driver behavior (reduction in idling when possible, efficient routing, etc.). The County will purchase 20 electric vehicles per year for the next six years and will largely replace gasoline powered sedan-style vehicles in the current vehicle fleet.
Install Green Infrastructure and Low Impact Development with Trees (plant more trees and plants) on County properties and rights of way that would yield the highest return on investment in terms of carbon sequestration, building cooling, reduction in urban heat island effects and stormwater management and flooding abatement.
Prepare an update to the Sustainable Action Plan for County Operations to reflect the County's alignment with the Paris Agreement.
Construct necessary infrastructure to make biogas generated from the wastewater treatment process into a clean form of methane gas capable for use as a commercial fuel. The County will then sell clean biogas for beneficial use.
In addition to the above, the resolution also authorizes the Board Chair to join the County Climate Coalition and calls on all local governments across the country to adopt similar commitments to the goals of the Paris Agreement.
Costs associated with the Pima County new resolution were undisclosed.