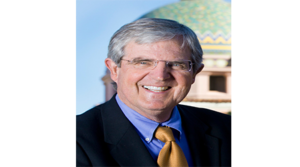 PIMA COUNTY, ARIZONA – County Administrator Chuck Huckelberry is now recovering at home after a period of hospitalization and rehabilitation. He was hit by a car while bicycling downtown Oct. 23. He returned home last week and his wife Maureen and a team of therapists and caregivers are providing him support.
"It's wonderful for Chuck to be home with me. He continues an aggressive therapy regimen, including physical, occupational, and speech therapies," Maureen Huckelberry said. "Our family is extremely grateful for all of his caregivers over the past several weeks. We especially thank all the well-wishers, County staff, and the Board of Supervisors for their support and understanding over the holiday season. We are currently considering options for the timing and viability of his return to work."
Maureen Huckelberry also expressed her appreciation for the continued respect for their privacy as Chuck continues his recovery.  She asked that anyone wanting to show their support Mr. Huckelberry's recovery can donate blood, donate to the American Red Cross, or give to a local bicycle advocacy organization.
For more information the family asks that any inquiries be directed to their attorney Ted Schmidt.