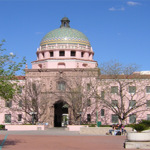 PIMA COUNTY – The Pima County Board of Supervisors on Dec. 19 approved the issuance of $12 million in Street and Highway Revenue Bonds to increase roadway capacity on three major Tucson-area thoroughfares. The sale of these Revenue Bonds are part of the remaining voter-approved 1997 HURF Revenue Bond plan.
These bonds will be used to fund capacity increases on Broadway Boulevard, between Euclid to Campbell avenues; Houghton Road, from Interstate 10 to Golf Links Road; and on Kolb Road between Sabino Canyon Road and Sunrise Drive, as well as several safety intersection projects.
The City of Tucson and Regional Transportation Authority (RTA) are the lead agencies on the Broadway project. In addition to County funding, the project will draw on RTA funding. Additional planning and land acquisitions are scheduled for 2018 and construction is expected in 2019.
The Houghton Road widening project, with the City of Tucson as lead, is part of the voter-approved RTA plan.
The Kolb Road project is a County-lead capacity expansion funded through the 1997 HURF Revenue Bond and federal funding. Design work will continue through 2018 with construction scheduled to run into early 2019.
The bonds will be paid off in 15 years using Transportation Revenue Funds.
For additional information about road projects within the City of Tucson, contact the Tucson Department of Transportation at (520) 791-5902.