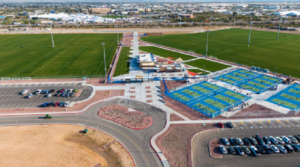 PIMA COUNTY – Master developers interested in bringing additional sports amenities and commercial opportunities to the Kino South Complex, 2343 E. Tournament Way, have until March 11 to submit their proposals. The expansion site has more than 80 acres available for sports, events, hotel, retail, restaurant or other development.
"This is an excellent opportunity for developers to work with the County to plan and construct one of the premier outdoor sporting facilities in the Southwestern United States," Pima County Project Manager Nancy Cole said. "Kino Sports Complex is booked year-round with events that draw hundreds if not thousands of visitors who are looking for lodging and dining options."
County officials are seeking "Statements of Qualifications" for a master developer partner who can help plan, finance and build out more than 80 remaining acres at the Kino South Sports & Entertainment Complex. Among the criteria, developers must demonstrate their qualifications, experience and financial wherewithal to successfully complete the project. Interested developers can go to pima.gov/kinosfq to find the procurement solicitation link and documents related to the partnership, including the commercial parcel listing, a conceptual site plan and more.
The deadline to submit a proposal is March 11, 2020. To download the solicitation, go to the Pima County Procurement vendor site, select the Public Access button and find "Kino South Sports & Entertainment Complex – Master Developer" among the Solicitation tab listings or use the search tool.
The 167-acre South Complex expansion opened in January. Sporting amenities at the site include 12 natural grass long fields suitable for soccer, football and other sports; a 20-court pickleball arena; locker rooms and other ancillary amenities.
This expansion has increased Kino's overall footprint to more than 300 acres and solidified the venue as one of the finest and largest sports and entertainment facilities in the country. Within one month of opening its sporting amenities, Kino Sports Complex already hosted a four-day pickleball competition and a regional tournament that drew over 380 youth soccer teams bringing hundreds of visitors to the area.
For more information about Kino Sports Complex, visit www.kinosportscomplex.com.