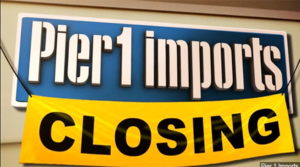 Pier 1 Imports (NYSE:PIR) won court approval for a speedy sale process a day after the home furnishings chain plunged into bankruptcy.
Judge Kevin Huennekens also signed off on a request that allows Pier 1 to obtain $256M in bankruptcy financing from its term-loan lenders to enable the retailer to keep operating pending a possible sale of the business.
The company also has secured $256 million in debtor-in-possession financing to provide sufficient liquidity until the sales process has been completed.
In addition, Pier 1 Imports is in discussion with potential buyers which could result in the company selecting a stalking horse bidder for the upcoming court-supervised auction. Qualified bids are expected to be submitted by March 23 and the auction to take place on March 31. Court confirmation is currently expected by April 23.
The company has filed for bankruptcy protection to quickly implement the recently announced almost 50% reduction of its store base which includes pulling out of Canada entirely.
Looking at the most recent 10-Q, equityholders are unlikely to receive any form of recovery as sales proceeds will likely be a insufficient to cover creditor claims, particularly after giving effect to the $256 million in debtor-in-possession financing now sitting at the top of the capital structure.
Court documents indicate seven Arizona store closures.
On Feb. 29, Pier 1 will close the following stores:
Happy Valley Towne Center – 2501 W. Happy Valley Pkwy., Phoenix
Village Fair North shopping center near Paradise Valley Mall – 12657 N. Tatum Blvd., Phoenix
On March 31, these stores are set to close:
Chandler Fiesta shopping center – 2600 W. Chandler Blvd., Chandler
Lake Pleasant Towne Center – 10092 W. Happy Valley Road, Peoria
Camelback Colonnade – 1743 E. Camelback Road, Phoenix
Ahwatukee Foothills Towne Center – 4717 E. Ray Road, Phoenix
5919 E. Broadway Blvd., Tucson