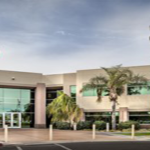 Griffin Capital Corporation ("Griffin Capital") on behalf of Griffin Capital Essential Asset REIT II, Inc. (the "REIT"), purchased the 100,273-square-foot, Aetna Life Insurance Company ("Tenant") leased facility at 3535 E Valencia Road in Tucson, Arizona ("Property") from a subsidiary of Aetna, Inc. ("Aetna" or "Parent") (NYSE:AET) First Health Group Corp. through a sale-leaseback transaction. The property commanded a sale price of $21.6 million ($215 PSF).
The Property is 100% leased to Coventry Health Group Corporation ("Coventry"), a subsidiary of Aetna Life Insurance Company, which has an investment-grade credit rating of 'AA-' from S&P as an affiliate of Aetna, one of the nation's leading diversified health care benefits companies. As part of the sale-leaseback transaction, the Tenant executed a new 10-year lease at the Property with annual base rental rate increases of 3.0% and no termination or contraction options. Coventry has been an occupant at the Property since it was constructed as a build-to-suit in 2001.
Commenting on the acquisition, Louis Sohn, Griffin Capital's Director of Acquisitions, said, "Given the Tenant's historic occupancy of and its capital investment into the Property and the 10-year lease term executed at closing, we believe Aetna will continue to find the Property and market attractive well into the future."
Michael Escalante, Griffin Capital's Chief Investment Officer, added, "Given the investment-grade credit quality of the tenant, and long-term lease with annual rental rate increases, this acquisition is an excellent addition to our REIT's institutional-quality portfolio."
Griffin Capital Essential Asset REIT II, Inc. is a publicly registered non-traded REIT with a portfolio that currently includes 16 office and industrial buildings totaling approximately 2.6 million rentable square feet and asset value of approximately $404 million. Led by senior executives with more than two decades of real estate experience collectively encompassing over $21 billion of transaction value and more than 650 transactions, Griffin Capital and its affiliates have acquired or constructed approximately 41 million square feet of space since 1995. Griffin Capital and its affiliates own, manage, sponsor and/or co-sponsor a portfolio consisting of approximately 26.7 million-square-feet of space, located in 29 states, representing approximately $4.6 billion in asset value.
The transaction was spearheaded by Cushman & Wakefield's Boston-based capital markets team consisting of President Robert Griffin, Vice Chairman Edward Maher, Executive Director Matt Pullen and Associate Director Jim Tribble, in conjunction with Tucson office market specialist, Rick Kleiner, a principal at C&W's local affiliate Picor Commercial Real Estate Services.
For additional information refer to RED Comp #3146.