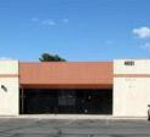 This article has been archived, please login for access or subscribe now by going to the subscribe tab at the top of page.
Community Behavioral Health Properties of Southern Arizona, LLC, dba Community Partnership of Southern Arizona (CPSA) purchased the property at 4601 E Broadway Blvd, in Tucson for[mepr-show rules="58038"] $1.73 million ($140 PSF). The 12,358 sq. ft. single-story, class-C office building (built 1979)  has been used by Social Security and Red Cross for offices, and most recently leased to Cope Behavioral Services before being vacant when it sold. It is across the street from CPSA's current location at 4575 E Broadway Blvd. west of the northwest corner of Broadway and Swan and will serve for additional office space to CPSA.
Sergio Centeno, Facility Manager at CPSA reported that it would take about 30-60 days to complete the tenant improvements before move-in.
CPSA is the Regional Behavioral Health Authority designated by the state of Arizona to administer the publicly funded behavioral healthcare system in Pima County. Founded and based in Tucson, CPSA has overseen the public behavioral healthcare system since 1995 and currently serves approximately 30,000 members in continuous care as well as makes available, coordinates and contracts a crisis service network for the approximately one million individuals living in Pima County. CPSA receives funding from the Arizona Department of Health Services/Division of Behavioral Health Services (ADHS/DBHS), Arizona Health Care Cost Containment System (AHCCCS) and Substance Abuse and Mental Health Services Administration (SAMHSA).
In 2005, members of the behavioral health, medical and criminal justice communities, in conjunction with local government, recognized the need for expanded and coordinated psychiatric crisis services in fast-growing Pima County.
The vision of the crisis facility was developed in response to the strain on Pima County's health care and law enforcement systems from the increasing numbers of individuals with mental illness and / or substance use disorders. Many people in crisis were routinely being taken to hospitals or jail, due to the lack of facilities for behavioral health patients.
CPSA's collaboration with Pima County officials, University of Arizona Health Network (UAHN) and the UA College of Medicine facilitated the creation of two new behavioral health care facilities, the Crisis Response Center (CRC) and UAHN's Behavioral Health Pavilion (BHP). In 2006, bond packages totaling $54 million for the new facilities were approved by more than 60% of Pima County voters. The CRC and BHP opened in August 2011.
With these new resources, CPSA initiated a reorganization of its crisis care system to provide coordinated, cost effective ad comprehensive behavioral health crisis services in accessible and strategically located facilities in Pima County. Facilities include the CRC, operated for CPSA by the Crisis Response Network of Southern Arizona (CRN/SA); Southern Arizona Mental Health Center's (SAMHC) walk-in crisis center in midtown Tucson; and Compass Health Care's Desert Hope detox center near the CRC. In addition to facilities for children / youth at Sendero de Sonora for short-term crisis stabilization and Intermountain Centers for Human Development for crisis respite and intensive, longer term services.
Pat Darcy of Tucson Realty and Trust Company in Tucson represented the seller, Sam Third, LLC (Steven Mar) of Tucson. The buyer was represented by Gary Emerson of GRE Partners, LLC in Tucson.
Centeno at CPSA is at (520) 325-4268. Darcy should be contacted at (520) 577-7000. Emerson can be reached at (520) 305-3589.[/mepr-show]
Login for more information.
[ismember]Sale price was 7/22/2013. Buyer paid $345,000 down and financed the balance with new conventional financing. The lot size is 39,347 sq. ft.; APN #126-12-2680[/ismember]