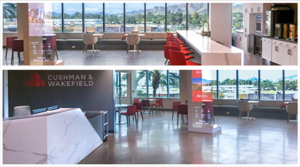 Firm Moves into New State-of-the-Art Office in Camelback Corridor
PHOENIX, Arizona – Cushman & Wakefield has moved into its new office at Esplanade V, 2555 E. Camelback Road in Phoenix. The commercial real estate firm's new 34,000-square-foot office is located on the third and fourth floors of the iconic Esplanade complex in the Camelback Corridor.
Cushman & Wakefield was looking for a new Phoenix office on the heels of the merger between the brokerage firm and DTZ in September 2015, which brought the firm's two Phoenix office operations under one entity. The firm shopped for real estate in Phoenix for a few months before deciding on Esplanade V in October. The new office will be used to consolidate the two firm's former Phoenix offices at 2375 E. Camelback Road, #300 and 2555 E. Camelback Road, #300.
The new Esplanade office will give Cushman & Wakefield a high-profile location to grow its Phoenix operations in a competitive industry. The Phoenix office, which will house approximately 200 employees, is part of Cushman & Wakefield's global initiative focused on the firm's corporate real estate strategy – workplace productivity, flexibility and employee wellness/engagement.
"We wanted the office to be more than just a place where we go to work each day, we wanted it to be a place that represents the latest thinking in workspace strategy and serve as the hub for our people, culture, clients and brand to interact with one another," said Bryon Carney, Market Leader. "Ultimately, our goal is to ensure that we have workspaces designed for the way we want to work – a space where our professionals have the flexibility and technology to help them develop the best solutions for our clients."
New amenities, technology and ways to work offers the Phoenix office more collaboration. The new office, spanning two floors, features team rooms, focus rooms, perch areas, pacing paths, traditional conference rooms, an employee lounge and Cushman Central – a restaurant style dining amenity for entertaining clients and hosting industry and company events.
"Moving to Esplanade V puts us in the perfect position to define who we are and where we want to be as a brand – to our clients, the industry and the Metro Phoenix area," said Carney.
Cushman & Wakefield's in-house Project Management team led by Andrew Snedeker oversaw the construction process. "This has been an exciting project. It has been a pleasure to work with LBA and the folks at the Esplanade to create this great workspace for our team.  The timeless design created by RSP and the successful implementation by Layton, IMMEDIA, CIS, TBI, Aspen, Relocation Strategies and Trademark is unparalleled," said Snedeker.