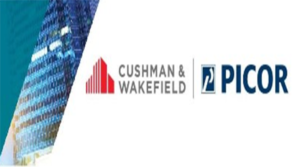 Cushman & Wakefield | Picor has released its market reports for the first half of 2016.
Preliminary Bureau of Labor Statistics data reported that Metro Tucson added 15,636 jobs year-over-year through May 2016, with total employment of 455,312 and a second quarter unemployment rate of 5.0%. Due to recent high-quality jobs announcements and expansion by current employers, the forecast is for continued improvement.
Economic optimism and consumer confidence were more-widely present, jump-started by Caterpillar's decision to locate downtown, forecasting creation of 600+ jobs at an estimated economic impact of $600 million. Tucson's steadily improving market performance was enhanced by this announcement and others, like the Comcast opening, expanded airline service, and downtown activity including attraction of an AHL professional hockey team, the Tucson Roadrunners, along with retail, residential and hotel construction, both planned and underway.
Tucson's multifamily market experienced minimal change from the previous quarter. The vacancy rate for stabilized units increased 2 basis points from the previous quarter to a rate of 6.83%. This figure is very encouraging, given the seasonal nature of the rental market. Many residents leave for the summer, escaping extreme heat, along with many students returning home. This is the lowest second quarter vacancy rate reported since 2006. Absorption decreased 29 units over the second quarter. The average monthly gross rent (without utilities) increased $5 (0.75%) to $674 per unit or $0.91 per square foot for the second quarter. The overall economic market has been improving in Tucson and notable optimism has spread throughout many of the owners, investors and property management companies. The tone of the conversations is increasingly positive and encouraging. Financials for most owners have improved over the last few years, and many owners are now completing capital improvement projects that had previously been neglected, such as roofing, asphalt, and unit renovations. Cushman & Wakefield | PICOR expects to record continued slow growth continue over the next few years.
For full reports see: 
Office Report Here: Tucson_Americas_Alliance_MarketBeat_Office_2Q2016
Retail Report Here: Tucson_Americas_Alliance_MarketBeat_Retail_2Q 2016
Industrial Report Here: Tucson_Americas_Alliance_MarketBeat_Industrial_Q22016
Multifamily Report Here: Tucson_Americas_MarketBeat_Multifamily_Q22016