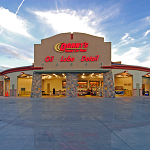 One by one, 14 managers from the Scottsdale-based Danny's Family Car Wash chain admitted in federal court over the past year that they took part in a scheme orchestrated by top executives to rehire illegal workers and provide them with fraudulent identities.
"(The) investigation of Danny's Family Car Wash yielded evidence that the corporate leadership was involved in a criminal conspiracy to rehire unauthorized workers using stolen identities," said Amber Cargile, a spokeswoman for ICE in Phoenix. "The case culminated with the company owner pleading guilty in federal court."
But all along, the owner of the company, Daniel "Danny" Hendon, a former Detroit police officer and high-profile Phoenix entrepreneur and businessman, had escaped indictment by federal prosecutors.
Last week however, Hendon pleaded guilty in U.S. District Court in Phoenix to a felony conspiracy charge.
The plea, which came as a surprise because it was made without a formal indictment, caps one of the largest federal work-site enforcement cases in Arizona.
According to Immigration and Customs Enforcement officials, Hendon's plea proved that the scheme to rehire illegal workers stemmed from the highest levels of the company.
Also on Thursday, 18 corporate entities that make up the Danny's Family Car Wash Chain filed guilty pleas in federal court to misdemeanor charges, admitting a "pattern and practice" of knowingly hiring and employing immigrants not authorized to work in the U.S.
The plea agreements come nearly a year after dozens of ICE agents swarmed more than a dozen Danny's locations on a busy Saturday last August and began carrying out search warrants.
Thirty workers were arrested as part of the raids.
A 78-count indictment handed up two days after the raids alleged that location managers had fired more than 900 immigrant workers, identified in a 2011 government audit as being unauthorized to work in the United States, and then systematically rehired many of them.
As part of his plea agreement, Hendon admitted that after the 900 unauthorized workers were fired, he began talking with other managers about the idea of "bringing back the old workers."
Sentencing of the 18 corporate entities that make up the Danny's Family Car Wash chain is scheduled for Nov. 3. They face fines totaling $699,000 — $3,000 for each of the 233 unauthorized workers who were employed at Danny's Family Car Wash locations when the company was raided by ICE, according to the plea agreement.
Federal prosecutors, however, have agreed to recommend that the corporate entities be sentenced to fines totaling a maximum of $233,000.
The car washes continue to operate.