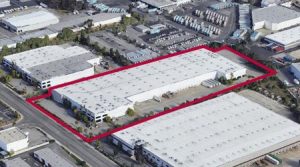 The lease transaction is one of the largest signed in San Gabriel Valley in 2023.
CITY OF INDUSTRY, Calif. (October 9, 2023) – DAUM Commercial Real Estate Services, a leading provider of commercial real estate services including brokerage, tenant representation, consulting, leasing, sales, and property management, has completed the lease of a 181,730 square-foot corporate office and distribution property in City of Industry, California. The property was leased for a total consideration of over $25 million, according to Dennis Sandoval, Executive Vice President and Principal at DAUM Commercial Real Estate.
"The search for the perfect property to meet this client's needs has been years in the making. DAUM has been a trusted partner of Action Sales throughout the process, serving in an advisory role to address their specific operational and economic needs. Finding a facility where they could consolidate their corporate offices and a major distribution facility required a partner, not just a transaction team," says Sandoval.
The lessee, Action Sales, signed a 64-month lease with an option to extend and will use the property as its corporate headquarters and a major distribution hub for its fast-growing national food service equipment and supplies business. Originally built in 1998, the building is a state-of-the-art, Class A, high-image industrial building with ample on-site parking for visitors and employees. The fenced property sits over eight acres with a 30-foot minimum clear height, 26 dock-high truck positions and is protected by security fencing and guard booth. The building was a former distribution site for online technology retailer NewEgg.
So far in 2023, according to JLL research, overall industrial leases have suffered major declines in volume compared to 2022. However, the numbers indicate a return to pre-pandemic leasing velocity, and in Q2 2023, over half of all transactions were for new leases, highlighting a healthy demand for new space. DAUM Commercial's Q2 Market Report for the San Gabriel Valley echoes the generally positive outlook for industrial property in California. Direct vacancies dropped 70 basis points from Q1 to 2.2 percent, with overall vacancies around 2.7 percent.
"The San Gabriel Valley is seeing excellent absorption for good quality industrial property," Sandoval says. "Action Sales spent so much effort in the process to make sure they found the perfect solution for their needs. This property, with its central location and direct access to transportation thoroughfares, met all their criteria. From exuding a strong corporate image to giving ample room for growth, the new headquarters is well-suited to serve the greater Los Angeles Basin and Southern California market."
The lessor was represented in the lease agreement by Mike Fowler of JLL. The lessee, Action Sales, was represented by Dennis Sandoval and Kurt Yacko, Associate Vice President, of DAUM Commercial.
The combined office and warehouse asset is located at 17708 Rowland St., City of Industry, California.
PHOTO: DAUM Commercial completes the lease of a 181,730 square foot corporate office and distribution property in City of Industry, California.