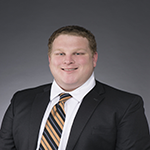 PHOENIX, ARIZONA – DAUM Commercial Real Estate Services continues to grow its Arizona brokerage team with the recent addition of Sebastian Sica.
Sica will serve as an associate, working alongside executive vice president/branch manager Kirk Jenkins, specializing in industrial properties in Central and Southwest Phoenix.
Prior to DAUM, Sica worked in Austin, Texas serving as account executive for SHI International, the second largest technology reseller of software, hardware and services in the United States. There, he was responsible for cultivating business accounts through prospecting, telemarketing and referral partnerships.
"We're pleased to have Sebastian join our expanding team in Arizona," said Steve McKendry, DAUM Phoenix Executive Vice President/Branch Manager. "His extensive experience with SHI International will be a great asset to our team, and we're excited to see him make an impact at DAUM."
Sica earned a bachelor's degree in general studies from Arizona State University. He is a member of Association of Institutional Research. Sica is a resident of Phoenix.
DAUM Commercial Real Estate Services provides a full array of services including brokerage, consulting, leasing, sales, corporate services and asset, construction, project and property management. Founded in 1904, DAUM is California's longest standing and most experienced commercial real estate brokerage company. DAUM has 10 offices throughout Southern California and Arizona. More information is available at www.daumcommercial.com.
DAUM Commercial Real Estate Services is a member of ONCOR International, a premier global commercial real estate network. ONCOR International LLC, a subsidiary of Realogy
Corporation, oversees the ONCOR International member network. More information is available at www.oncorintl.com.