Dave's Hot Chicken Brings the Heat to Phoenix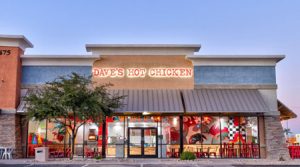 PHOENIX, Ariz., (Nov. 16, 2023) – Dave's Hot Chicken, a Nashville-style hot chicken restaurant from Southern California, is set to open its second location in Phoenix this week, and has plans to open several more in the coming months.
Dave's Hot Chicken has gone from a scrappy, late-night pop-up to being the fastest growing restaurant chain in the nation. Come this Friday, November 17, Phoenix residents will be able to get their hands on the hot chicken so good, it made superstar Drake want to invest.
Opening this Friday, the newest Dave's Hot Chicken restaurant will be located at 475 E. Bell Rd., Suite 172, in the Target Shopping Center at the corner of Bell Road and 7th Street. It will be open seven days a week from 10 a.m. until 1 a.m.
The endcap restaurant – which features an outdoor patio, locally inspired street art and plenty of patron parking – will be owned and operated by franchisees and brothers Devon and Clinton Wesselink of Elevated Restaurant Group AZ.
"We are bringing even more heat to the desert with Dave's Nashville hot chicken," said Devon Wesselink. "This is our first Dave's location in the city of Phoenix but we are actively seeking more location opportunities throughout the market, with a focus on expanding in the West Valley."
Dave Uhles and Alberto Caballero of Western Retail Advisors represented Elevated Restaurant Group in the transaction.
"There's a cool factor about the Dave's Hot Chicken brand that has boosted its already rapid growth across the country and attracted celebrity investors," said Caballero. "We are excited to continue to be a part of the brand's expansion plans in Arizona and to capitalize on this state's love of quick serve restaurant concepts."
Dave's Hot Chicken specializes in Hot Chicken Tenders and Sliders, along with sides of house-made Kale Slaw, creamy Mac n' Cheese, crispy, seasoned French Fries, and Shakes. Offered at various spice levels ranging from No Spice to Reaper™ (which requires a signed waiver for those who dare), each piece of juicy, hand-breaded chicken is spiced-to-order.
"Our founders started Dave's as a parking lot pop-up restaurant in Hollywood with a portable fryer and picnic tables from their backyards just six short years ago. We're thrilled to be opening our second restaurant in Phoenix," said Bill Phelps, Dave's Hot Chicken's CEO.