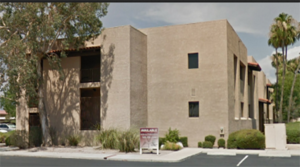 TUCSON, ARIZONA — Vast Commercial Real Estate Solutions (VAST), a full-service commercial real estate and investment brokerage firm, brokered the sale of Building C at 6420 E Broadway Boulevard, Tucson, AZ 85710. Located along the high-traffic Broadway Boulevard in the El Mercado Office Plaza, the 16,830-square-foot space sold for $2.5 million ($148.54 PSF) on March 9, 2018.
Prior to the sale, the owners of El Mercado Office Plaza hired VAST to perform a lot line adjustment (LLA) to the property in January 2018. The resulting single-tenant NNN-leased medical office building is currently occupied by the top DaVita Kidney Care dialysis center in Tucson, AZ. DaVita Kidney Care is one of the largest providers of kidney care in the US and is a subsidiary of DaVita, Inc., a Fortune 500(R) healthcare company headquartered in Denver, CO.
Jon O'Shea, Rob Fischrup, and Eric Lamb of VAST brokered the off-market transaction between the Buyer, Jeffrey S Little of Steamboat Springs, CO, and the Seller, Wilmot 310, LLC of Tucson, AZ.
Vast Commercial Real Estate Solutions (VAST) is a full-service commercial real estate firm that specializes in investment and advisory services. Since its inception in 2008, the company has brokered over $80 million in purchase and sale transactions and has leased over 500,000-square-feet in Pima and Cochise Counties. VAST has managed over $12 million of tenant improvement and capital improvement construction.
For more information, O'Shea and Lamb should be reached at 520.624.9400 and Fischrup can be reached at 520.398.7104.
To learn more, login and see RED Comp #5630.