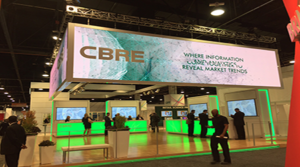 LAS VEGAS, NV — The world's biggest retail real estate convention is living up to its name again this year, as tens of thousands of retail real estate professionals from around the globe gather in Las Vegas for this week's ICSC RECon 2017.
Delegates swarmed through the convention center as soon as the doors opened Monday morning, with landlords, retailers, public officials and others eager to strike deals with one another.
"I am very confident in our future," observed ICSC President and CEO Tom McGee prior to a luncheon event Monday, noting that Millennials are now in their 30s, an age when — like the Baby Boomers before them — their spending rises.
Many at this year's RECon are challenging pervasive media reports about store closings, noting that they distort the overall picture of the state of the industry. Not only do occupancy rates and other vital signs remain positive, say RECon goers, the industry is reinventing itself in a fast-moving new cycle, replacing weaker retailers with stronger ones that pay higher rents.
"When you look at the numbers, you see retail isn't doing bad," said Neil Saunders, managing director of global data for Colliers International. Speaking at the firm's 25 annual National Retail Meeting at Encore Las Vegas on Sunday, Saunders cited data to support his assertion.
The annual growth rate of Internet retail sales is actually dropping, from 15.3 percent in 2011 to 13.8 percent this year, with a projection to shrink to 10.2 percent by 2021, said Saunders, citing GlobalData Retail numbers. There's also been a decided shift in the last decade to more consumer spending on non-traditional retail such as restaurants, entertainment-themed retailers and music, he said. Consumers who spent 76.3 percent on core retail items and 23.7 percent on not-traditional retail in 2006, spent only 61.2 percent on core retail in 2016 and 38.8 percent on non-traditional retail, according to Colliers. "We are doing more things that are intangible, things that create memories," Saunders said.
Today there are more international and domestic retailers competing with one another than ever before, Saunders said. The percentage of shoppers who patronize a broader variety of retailers, compared to five years ago, is high, especially when it comes to apparel (67.8 percent), housewares (61.4 percent) and Health/Beauty (81.6 percent).
Meanwhile, the ultra-healthy "value retail" channel is expected to continue its rapid growth for years to come, Saunders said, and in all formats. The category enjoyed robust growth rate of 15.1 percent from 2012 through 2016, and is expected to surpass that with an 18 percent growth clip from 2017 to 2021, he noted. "Dollar General is adding 1,000 new stores this year, which gives it 13,300 stores."
Stores that are closing often "are going out of business because they are doing the same things they did in the 1980s," Saunders said. More than 70 percent of consumers polled say they pulled away from certain stores because "they are uninspiring," he explained.
Stronger retailers are enhancing their viability with more more nimble distribution systems, better omni-channel sales programs and better customer service and experiences. "They realize they still have to give consumers a reason to come to the store," he said.
Nancy McClure, vice president with CBRE in Tucson said, "Change is often scary.  But, what's scarier is not changing!"
"The RECON Leasing Mall has been buzzing with positive enthusiasm for dealmaking. Retailers are viewing announced closures as opportunity for getting into sub-markets where they don't already have a presence," observed McClure. "I am hearing many retailers changing store size footprints and a willingness to look as space sizes they haven't considered in the past.  Most attendees view the negative media headlines as an over-exaggeration."
"Retail is changing," observed Ross Cooper, president and chief investment officer at Kimco Realty Corp. "It's an evolution, not a revolution."
Despite the Internet's influence on consumer shopping patterns, landlords can seize new opportunities. A particularly conspicuous example is the growing food and beverage segment, several observed. Millennials and empty-nest baby boomers both like to dine out in artisanal environments, ranging from sit down restaurants to quick grab-and-go casual spots in food halls, noted Howard Wong, managing director of retail for Irvine, Calif.–based Passco Companies, a real estate investment firm focused on retail and apartments.
"Yes retail is in an interesting time, however, there are new opportunities," Wong said. "From our standpoint we're remerchandising our centers and acquiring centers to target those local, up-and-coming chefs and food concepts."
It's important for shopping center landlords to understand what the younger generation wants when leasing their centers, said Todd Siegel, vice president of retail for Passco.  "You have to be careful," Siegal warned, "that you don't fill a shopping center based on what a 50-year-old guy wants."