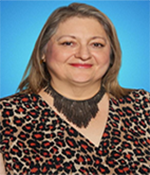 TUCSON, Arizona – The President of the United States looks to his Secretary of Treasury, Steve Mnuchin, as a principal advisor on issues regarding the economy. The Secretary makes recommendations about domestic and global economy and tax policy. He plays a very important role in creating strategies that affect economic and government financial outlooks for issues the government faces.
As part of the President's campaign promises to improve business climate and attract more employers, Secretary Mnuchin recently appointed a citizens' advisory group comprised of business leaders across the country to offer input from their regions on Economic Development.
Debe Campos-Fleenor owns the Campos Fleenor Allstate Insurance firm in Tucson with her husband Randy and was recently asked to join the group. Debe is a native of Tucson and an alumna of Sunnyside and the University of Arizona.  After working for TUSD, she started her Allstate Agency from scratch, building her client base and using her experience as a financial specialist from the age of 23, to help families and young people establish their financial goals and retirement security.
"The President and Secretary Mnuchin are interested in improving economic development across the country such as the efforts made to eliminate unnecessary burdensome regulations that are having a tremendous impact," Debe said about her new role. "They are interested in hearing from us things that are working and those that aren't."
"The Treasury Secretary takes part in formulating broad fiscal policies that significantly impact the economy and manages the public debt," said Debe. "Secretary Mnuchin also serves as the financial representative for the United States government, responsible for overseeing and managing the amount of cash that is available to markets."
With input from this group as well as others, Secretary Mnuchin continues to implement President Trump's economic agenda focused on tax cuts, regulatory reform, and trade. In only six months since the passage of the Tax Cuts and Jobs Act, Americans were seeing faster GDP growth, more money in their paychecks, and better career opportunities.  Unemployment numbers are historically low, with an average of over 200,000 jobs added each month this year.  Over 500 companies have announced bonuses, wage increases, and enhanced benefits.  The National Federation of Independent Business, the National Association of Manufacturers, and the Consumer Confidence Index are all reporting record levels of optimism.  Americans are keeping more of their hard-earned money, and U.S. businesses are more competitive.
"Arizona is a great place to live, work, play, raise a family and retire, and I want Arizona to be considered the best place in the country to do business," Debe said. "I'm excited to work with other citizens across the country in an effort to grow the economy and create jobs."