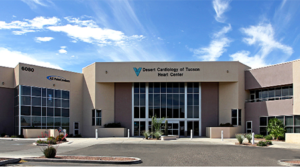 TUCSON, ARIZONA -- Carter Validus Mission Critical REIT Inc. purchased the building occupied by Desert Cardiology Northwest at 6080 N La Cholla Blvd in Tucson on the Northwest Hospital Campus for $6.5 million ($185 PSF) from Northwest Hospital in a four property portfolio sale by Community Health Systems and Northwest Hospital.
Carter Validus Mission Critical REIT Inc. (CVMC REIT I) and Carter Validus Mission Critical REIT II Inc. (CVMC REIT II), both publicly registered, non-traded real estate investment trusts, recently entered into a definitive agreement to merge in a stock and cash transaction, creating an entity valued at approximately $3.2 billion. The transaction is expected to close in the second half of 2019, with the approval of CVMC REIT I stockholders.
The combined company will retain the name Carter Validus Mission Critical REIT II Inc. and will own 150 healthcare and data center properties in 33 states, totaling approximately 8.7 million-square-feet of space, operating at a weighted average occupancy of 95.3% with a weighted average rent escalation and a weighted average remaining lease term of 2.3% and 10.1 years, respectively
At the September 26, 2019, CVREIT Special Meeting of Stockholders, the proposal to consummate the merger with the Company was approved by approximately 91.7% of the votes cast.
Under the terms of the merger agreement, the Company acquired approximately 179 million outstanding shares of CVREIT common stock, with each CVREIT stockholder receiving $1.00 in cash and 0.4681 shares of the Company's Class A common stock for each share of CVREIT common stock owned.
"The closing of this transaction represents the beginning of a new and compelling chapter for the Company," stated Michael A. Seton, Chief Executive Officer and President.
"We believe CVREIT is an excellent complement to our portfolio, bolstering our healthcare investment portfolio and supporting our growth strategy through increased size and scale as well as further diversification of our existing tenancy and geographic distribution. We look forward to continuing to demonstrate value creation for our stockholders."
Upon completion of the merger, current CVMC REIT I stockholders will own approximately 39 percent and current CVMC REIT II stockholders will own approximately 61 percent of the combined company, on a fully diluted basis.
Carter Validus Mission Critical REIT II invests in net leased data center and healthcare assets and raised approximately $1.2 billion in investor equity after launching its initial primary offering in May 2014. The company's follow-up offering, which closed in November 2018, raised $86.9 million as of July 23, 2018.