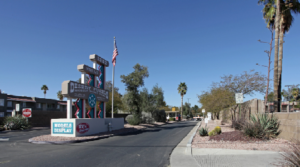 TUCSON, ARIZONA - Desert Pueblo Mobile Home Community at 1302 W Ajo Way, Tucson, AZ sold to Scottsdale investor, MHP #1, LLC, an affiliate of the Vanderhoot Family Trust, for $30 million (approximately $72,000 per space).
The 55+ community with 418 spaces with 30 park owned homes, and approximately 70 spaces being used for RV parking on 56.5 acres. The asset was 87% occupied at time of sale.
Derek Harris of HARRIS Manufactured Housing & Commercial Brokerage represented both the buyer and seller, a family trust from Redwood, California.
"There is definitely a lot of upside potential with this property and some vacancies to fill," said Harris. " "The new owner is coming in to upgrade the park owned units and bring property up to its true potential."
For additional information Harris should be reached at 602.803.6227
To learn more, see RED Comp #7765.