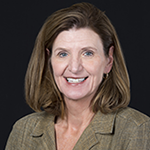 Pima County is pleased to announce the hiring of Diane Frisch as Director of Attractions and Tourism.
Frisch comes to Pima County from the PGA TOUR where she served as sales and marketing manager for tournaments on the PGA TOUR and PGA TOUR Champions.
"I look forward to working with Pima County and our partners to highlight the events and venues that make our community so unique."
Frisch began her career in broadcasting and managed both television and radio station groups in multiple markets with emphasis on sports marketing, media and sponsorship/event promotion. She is a former vice president and general manager for KFFN/KMXZ/KQTH/KGMG radio group and KMSB and KTTU television stations.
Attractions and Tourism acts as Pima County's liaison with the tourism community to enhance the economic well-being of the region. The department provides business development, marketing, training and revenue enhancement for Pima County's tourism sector partners.
The department manages the contracts for the attractions that lease County properties, including Arizona-Sonora Desert Museum, Old Tucson Studios, Colossal Cave Mountain Park, Pima Air and Space Museum and the Pima County Fairgrounds.
Attractions and Tourism also serves as a marketing outreach agency, with our partner agency Visit Tucson, promoting the region's amenities and quality of life among meeting planners, conference attendees and leisure visitors.