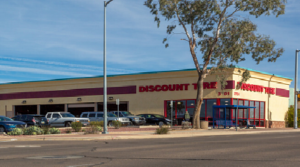 TUCSON, ARIZONA – Discount Tire Co. purchased the property at 3701 E Speedway in Tucson. Halle Properties LLC in Scottsdale (Michael S. Zuieback, principal) paid $1.1 million ($162 PSF) to acquire the 6,782-square-foot building where Discount Tire was a tenant prior to sale.
The deal was negotiated by Hank Amos of Tucson Realty & Trust in Tucson representing the seller and Webb Sellers of SRS Real Estate Partners of San Antonio, TX for buyer.
The property, which was built in 1988 at the northeast corner of Speedway Blvd and Dodge Road, has 5 grade level roll up doors and sold with 10 years remaining to the lease. Discount Tire will continue to occupy the property as an owner user.
This is one of eleven Discount Tire store locations in Tucson.
For more information, contact Amos at 520.577.7000 and Sellers at 210.504.2781.
To learn more, see RED Comp # 7917.