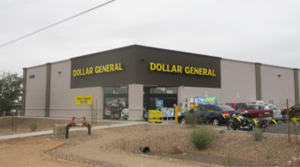 TUCSON, ARIZONA – California-based investor, Benson-DBS, LLC purchased the Dollar General located at 6780 N. Sandario Rd. in Tucson, from Damco Arizona Properties, LLC for $1,788,250 ($199 PSF) for the 8,990-square-foot store constructed in 2017. The property sits on a 1.4 acre lot.
Dave Hammack, Principal and Retail Specialist with Cushman & Wakefield | PICOR, represented the buyer in this transaction.
With thousands of retail stores announcing closures as consumers embrace online shopping. One company continues to rapidly expand its physical footprint and rake in profits year over year — Dollar General.
Business is booming for the Goodlettsville, Tennessee-based company as the nation's largest dollar-store chain and it's due in no small part to America's growing appetite for groceries under shutdown.
Revenue at Dollar General leapt 28% during its latest quarter as the chain of 16,000 stores added more fresh and frozen food, while driving down costs and undercutting competitors by building out its own grocery distribution network. The moves have made Dollar General a critical source of affordable groceries and household staples, particularly in rural and low-income communities.
Dollar General has been working to fashion itself into a one-stop shop that brings together the items typically found in a drugstore, grocery store and big-box store, which has proven savvy as consumers continue to stock up on essential items, like groceries, cleaning products and pet food, which account for the vast majority of its business. Rival Dollar Tree, which relies more heavily on discretionary items like gifts, greeting cards and party supplies, said sales rose just 8%.
DCM Development Company LLC, (Chris Lechner, managing member) a Tucson-based Dollar General contractor, purchased 1.70 acres of vacant commercial land, located at the southwest corner of Highway 90 and Sunset Rd. in Huachuca City, AZ., from Robert Miscione for $257,500.
Dave Hammack represented the buyer in this transaction. Marisa Pigozzo with Tierra Antigua Realty in Sierra Vista, represented the seller.
For more information Dave Hammack should be reached at 520.546.2712.
To learn more, see RED Comp #7870.