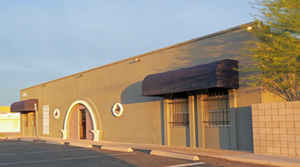 Tucson, Arizona – Tucson Center for Women and Children, dba Emerge Center Against Domestic Abuse, purchased the office building located at 4455 E. 5th Street, Tucson, Arizona, from Mama's Family Restaurants, dba Mama's Hawaiian BBQ, for $485,000 ($125 PSF).
Emerge Center Against Domestic Abuse provides domestic abuse crisis intervention and housing, prevention, education, support, and advocacy services to anyone experiencing domestic abuse. While the majority of the people seeking our services are women and their children, our services are available to anyone regardless of gender.
The property consists of an approximately a 3,870-square-foot building, built in 1953, on 11,893-square-feet of land. Seller was an owner occupant and buyer will be the same.
Michael Gross and Frank Arrotta of Tucson Realty & Trust Co. represented the seller and Tom Nieman, Principal at Cushman Wakefield | Picor represented the buyer in the transaction.
For additional information, Gross and Arrotta can be reached at 520.577.7000 and Nieman is at 520.546.2728
To learn more about Emerge Center or to assist with the center's Covid-19 in-kind donation requests, go to https://www.emergecenter.org/