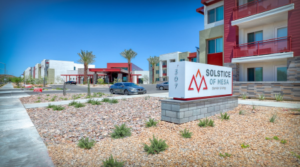 Dominium Donates $50,000 to Arizona Nonprofits in Honor of 50 Years of Service
Phoenix, Arizona  – Dominium, one of the nation's leading owners, developers and managers of affordable housing, is celebrating its 50th anniversary with the opening of its Mountain West headquarters in Scottsdale.
As Arizona's housing crisis looms, Dominium and its partners are investing $1 billion in the state to develop affordable housing for essential workers and Arizona's seniors. Dominium has already opened Solstice of Mesa, providing 237 affordable homes for seniors, adding to its existing portfolio of Copper Cove Apartments in Tolleson and Mountain Park Townhomes in Show Low.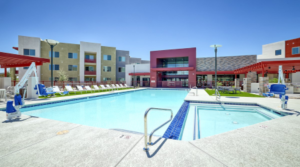 Additionally, Dominium currently has over 850 affordable homes under construction across the Valley, with an additional 3,000 units proposed in the next few years.
In honor of its 50 years of service, Dominium is donating $10,000 to each of the following five Arizona nonprofits doing important work in the state: UMOM, Yes Housing, Inc., Save the Family, First Place AZ, Arizona Community Foundation's Arizona Housing Fund.
"Locating Dominium's Mountain West headquarters in Arizona enables our development staff, who all live in the Phoenix area, to work closely with local leaders to address the state's significant housing shortage. The people who live in our apartments are teachers, firefighters, police officers, and grocery store workers who deserve a quality home," said Paul Sween, Senior Managing Partner at Dominium. "As part of our 50th anniversary, we are thrilled to support Arizona nonprofit leaders who are terrific partners in improving the state's housing crisis."
Nationally, Dominium manages more than 38,000 apartments in 19 states. Dominium has a reputation of developing high-quality properties that they own and manage for the long-term. Dominium is collaborating with the Arizona Department of Housing, the Arizona Industrial Development Authority, and a number of other investor partners to increase the number of affordable housing units in the state.
"My charge is to combat housing instability in Arizona and be creative in finding solutions," said Tom Simplot, director of Arizona Department of Housing. "Dominium is already making meaningful progress on advancing Arizona's housing options. Dominium's properties are workforce housing at its best. We are thrilled they decided to locate their Mountain West headquarters in Arizona and look forward to continued collaborations."
PHOTOS: Solstice of Mesa; Image Courtesy of Dominium