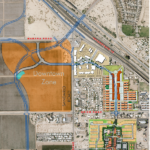 The visionary concept for creating a new Downtown Marana and Marana Main Street, took a step closer to reality for the Town of Marana recently when Marana purchased 42.93 acres of land for $1.6 million ($0.86 PSF) from Reyher Partnership of San Diego, CA. The property is located on both sides of Marana Main Street between Grier Road and Civic Center Drive. Downtown Marana is often discussed as an opportunity to create a "heart and soul" for the town that would tie the greater Marana community together. Challenges to building a new downtown include four separate and distinct entitlements and different owners with each having their own vision of what Marana Main Street should be. One of these owners, Reyher Partners selling its interest will help bring the scope of Marana Main Street together.
The heart of Marana historically was where regional farmers came together to share information and sell goods. It provided a sense of community within a vast agricultural area. Establishing and capturing a strong sense of place is again believed critical for Marana residents as well as for visitors. The municipal complex and health center are the first major investments in Downtown Marana. Major infrastructure upgrades are needed and improved access from I-10 must be developed and include Civic Center Drive from Barnett Road to N. Marana Main Street which will terminate at Tangerine Farms Road.
The area has multiple landowners who will play an important role in the implementation of the vision for Downtown Marana. Successful downtowns need more than infrastructure, they need people. The Downtown Activity Center will include a strong residential component that will create 24/7 activity that will help local businesses succeed. It is anticipated that the activities and establishments in this Activity Center will support the Tourism and Visitor Experience target industry. Downtown Marana as currently envisioned is a large Activity Center, identified as part of the Council-approved Single Central Business District. This area can include a variety of development areas tied together with unifying design features and a multimodal transportation network that might include a trolley or other form of transit and pedestrian system. Comprehensive planning and creative techniques will need to be employed to achieve "walk-ability" and a unified design theme.
According to the Town of Marana's website, "the entitlements are administered through four separate specific plans, each with its own development regulations and conceptual development plan. The common theme among these plans is the right-of-way alignment, the public pedestrian spaces and conceptual building layout fronting the pedestrian spaces. The downtown area is intended to reflect the main street character found in many communities with retail uses on the ground level and residential and office uses allowed on the upper levels. The buildings would be situated on the front lot line allowing for a seamless transition from the pedestrian to the built environment. Tree lined streets, casual seating areas, sidewalk cafes and small park-like amenities help create the desired look and feel."
Marana is starting to see development interest in some of these areas and realizes that this is an opportunity to look at these four distinct planning areas comprehensively.
Three new business parks are opening in the area of I-10 and Tangerine Road with two important businesses committed to space. On the west side of the freeway, construction has begun on a new facility for Ventana Medical Systems, which will be part of the Tangerine Commerce Park. To the east of I-10, near Trico Electric, will be both Marana Technology Campus and Marana Business Park, with Towers International going into this area
For additional information on this sale see RED Comp #3085. For details on Marana Downtown District see Downtown Marana Activity Center.