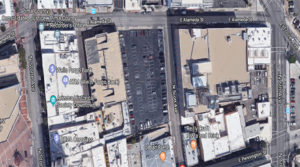 TUCSON, ARIZONA – The downtown parking lot at 79 East Alameda and 139 Scott Street in Tucson, at the southwest corner of Scott and Alameda, commanded a sale price of $3.25 million ($79 PSF) to an Austin based developer, TAZ Parking, LLC. The sale price represents the highest price per square foot for a parking lot in downtown Tucson since 2015 when 211 S Stone sold for $76 per square foot.
The Woodward Family (Leon Woodward, manager), the seller, had owned the parking lot since 2000 as an owner operator. Si Schorr, Sr. Partner at Lewis, Roca, Rothgerger, Christie, LLP represented the seller in the transaction.
Ben Riehle, who worked as a parking lot attendant there while attending the University of Arizona, and Jake Arnold of the APEX Team at Keller Williams of Southern Arizona represented the buyer in the transaction.
The investor plans to continue use of the OCR-3 zoned, 41,284-square-foot lot with 133-parking spaces for parking while holding for development. "With all the new development taking place downtown, a revenue producing open lot in the center of activity seemed a great investment opportunity for the buyer," Arnold stated. "We have it back on the market already at $3.8 million, the appraised value."
The buyer has up until now been investing in multi- and single-family investments in the Tucson area with Arnold and Riehle, and is also considering the property for redevelopment as condos and / or retail use.
For more information, Arnold can be reached at 520.505.1015.