DPC Companies to Renovate 7000 East Shea Boulevard into Preeminent Mixed-Use Destination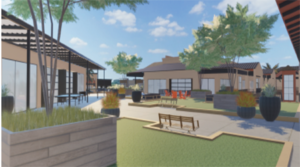 'B7|BLOCK 7000' Features 149,780+ SF of Creative Office, Retail and Restaurant Space
SCOTTSDALE, Arizona – DPC Companies, a privately held, well-capitalized real estate firm specializing in the acquisition and development of commercial property in Colorado, Arizona and the Rocky Mountain Region, unveiled plans for an extensive renovation of 7000 East Shea Blvd. into B7|BLOCK 7000, which will include 149,780-square-feet of creative office, retail and restaurant space on 8.3 acres in Central Scottsdale, near Paradise Valley. The renovation is slated for completion in Q1 2019.
"As Central Scottsdale continues to evolve and attract first-class amenities, B7 provides an unparalleled opportunity for businesses to be in the heart of the action," said Justin Lutgen, vice president at DPC Companies. "With our extensive renovation of the property, we're committed to making this a preeminent destination that serves the needs of the surrounding communities."
In the heart of Scottsdale, at the intersection of Scottsdale Road and Shea Boulevard, B7 provides a central location for new office, restaurant and retail options. Designed for progressive tenants, the 74,187-square-feet of creative office space features flexible floor plans, 14-foot ceilings with exposed wood trusses and 10-foot windows spanning two sides of the office space, overlooking an open-air courtyard. The property also features traditional office spec suites ranging from 2,000 to 5,000-square-feet.
Property upgrades include a central conference facility, community plaza and 75,594-square-feet of on-site restaurant and retail space, including a proposed ground-up 10,000-square-feet of high-end retail building fronting Shea Boulevard. With a 4:1,000 parking ratio, the property also includes 300 covered parking spaces on a two-level subterranean parking structure.
For more information about DPC's holdings, please visit dpccompanies.com.