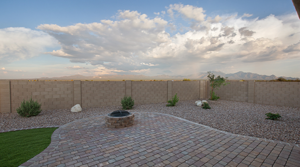 SAHUARITA, ARIZONA — D.R. Horton, Inc. (NYSE:DHI) purchased 20 finished SFR lots as part of a new rolling option from Tucson Land, LLC at Santa Cruz Meadows in Sahuarita. The sale closed on April 10.
D.R. Horton paid $1,287,000 ($64,350 per lot) for a mixture of 7,000-square-foot production lots and half-acre lots combined. The builder intends to continue building in this Santa Cruz Meadows subdivision where it has already been building for several years under another rolling option agreement.
D.R. Horton homes closed in the second quarter of fiscal 2020, ending March 3st, increased 8% to 14,539 homes compared to 13,480 homes in the same quarter of fiscal 2019. Home sales revenue for the quarter increased 10% to $4.4 billion from $4.0 billion in the same quarter of fiscal 2019. Homes closed in March 2020 increased 6% to 6,677 homes compared to 6,272 homes in March 2019. Homes closed in the first six months of fiscal 2020 increased 10% to 27,498 homes compared to 24,980 homes closed in the same period of fiscal 2019.
In almost all municipalities across the U.S. where social distancing and other restrictions have been issued, residential construction and financial services have been designated as essential businesses as part of critical infrastructure. D.R. Horton has continued its homebuilding and financial services operations in those markets where allowed and has implemented operational protocols to comply with social distancing and other health and safety standards as required by federal, state and local government agencies, taking into consideration guidelines of the Centers for Disease Control and Prevention and other public health authorities.
Randy Emerson of GRE Partners, LLC represented the seller and Dan Feig of Chapman Lindsey Commercial Real Estate represented the buyer.
For more information, Emerson can be contacted at 520.396.4812 and Feig is reachable at 520.747.4000.
To learn more details, see RED Comp #7715.