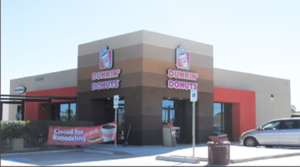 TUCSON, ARIZONA – A California investor traded into the acquisition of the Dunkin Donuts store at 5346 East 22nd Street in Tucson for $2.1 million ($951 PSF). The 2,209-square-foot store was built in 1984 as a stand-alone building with drive-thru and completely renovated in first quarter 2016.
Located southeast of Craycroft and 22nd Street, in a high density retail area in the eastern Tucson submarket.
Matthew Ault with Kidder Matthews of Phoenix represented the seller, C&J Donuts of Tucson (Jamal Awale, director).
Ault told us Dunkin Donuts range in price from $1 – $3 million with cap rates ranging from 5.25% – 6.5% with absolute triple net leases these days.
Dunkin' Brands Group, Inc., incorporated on November 22, 2005, is a franchisor of quick service restaurants (QSRs) serving hot and cold coffee and baked goods, as well as hard serve ice cream. The Company franchises restaurants under its Dunkin' Donuts and Baskin-Robbins brands. The Company operates through four segments: Dunkin' Donuts-U.S., Dunkin' Donuts International, Baskin-Robbins International and Baskin-Robbins-U.S. The Company has over 18,000 points of distribution in approximately 60 countries across the world. As of December 31, 2016, the Company had 12,258 Dunkin' Donuts points of distribution, of which 8,828 were in the United States and 3,430 were international, and 7,822 Baskin-Robbins points of distribution, of which 5,284 were international and 2,538 were in the United States.
For more information, Ault can be reached at 602.513.5128.
To learn more, login and see RED Comp #6509.
Doc. #2019-0100489. Sale date: 1/10/2019. Property sold at a 5.75% cap rate.