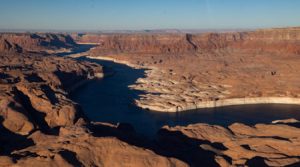 PHOENIX, ARIZ. (May 12, 2023) –  The Arizona Association for Economic Development (AAED) announced the results of its State of Arizona Economic Development survey at its recent spring conference in Tucson. AAED surveyed its membership of more than 500 economic development practitioners and those that provide goods and services from the private sector.
With the economy on everyone's mind, the survey showed that economic developers are an optimistic group and 46 percent expect strong growth to continue in 2023. Just 6 percent expect an economic downturn and the remainder expect slower growth or little change (no growth).
In contrast, 40 percent of service providers expect weakening growth in 2023, another 40 percent expect little change (but not a recession) and just 17 percent expect strong growth.
It was the second year for the survey taken to better understand current trends in economic development and the relationships between practitioners and service providers who are AAED members. Out of the 120 respondents, 88 were practitioners, and 32 were providers. This representative sample mirrors the makeup of the AAED membership. There was strong representation of practitioners from both urban and rural parts of Arizona.
Key takeaways from the survey:
Providers are concerned about permitting, regulations, and water resources;
Economic developers are concerned about the lack of available commercial and industrial buildings, and housing affordability and availability;
Talent is an important challenge to both practitioners and providers, but especially for providers;
Economic developers must continue to monitor and address workforce challenges and engage with partner organizations;
As an organization, AAED needs to be responsive to changes in local and state policy.
"It is vitally important AAED understands the concerns of the private and public sectors and how, as an organization, we can be responsive to those concerns," said AAED Executive Director Carrie Kelly AAED. "Over the next year, monitoring and addressing workforce challenges, tackling housing affordability and availability, and being proactively involved in economic development policy and regulations is critical to the future success of our state."
When asked about budgets, 41 percent of practitioners saw no change in their budgets. For the remaining 59 percent of practitioners, 29 percent had slight budget increases of 0 to 10 percent in the past year, and 24 percent had increases of more than 10 percent.  Only 13 percent of practitioners overall had budget decreases in the past year, but decreases were more common in medium-sized communities (50,000 to 250,000 population).
For practitioners who modified their strategic plan in the past year, there was a greater focus on housing, entrepreneurship and small business development, and workforce training across all respondents.  Looking at responses by service area size, small (less than 50,000) and medium communities (50,000 to 250,000) were more likely to focus on business retention, housing, and quality-of-life enhancements. Large communities are focused on entrepreneurship and small business development, workforce training, and emerging industries.
Practitioners are working to increase economic opportunity in their communities. The top responses in terms of approaches include providing resources for entrepreneurs, offering grants, mentoring programs, and assistance with loan applications. Practitioners also reported that they partner with chambers of commerce, community colleges, workforce development organizations, regional EDOs, and non-profits to enhance their economic development efforts.
Primary challenges for economic development in small communities include housing affordability and availability as well as a lack of available commercial and industrial buildings. Answers were similar for medium-sized communities which were also concerned about talent. Large communities are challenged by housing affordability, talent, building availability, and NIMBYism.
Among the 32 providers that completed the survey, 40 percent work for architecture and engineering firms, 10 percent work in the construction industry, and the remainder are spread across a range of other industries like consulting, education, and non-profits.
The survey shows they support economic development by providing leads and industry expertise to economic developers, and many also viewed economic developers as their customers. Some also view their role as helping to develop and maintain infrastructure to support economic development.
In terms of how economic developers benefit service providers, they provide data and information, leads, and industry expertise. Close to 60 percent of service providers also reported that economic developers are their customers.
Challenges identified by practitioners include skilled labor/talent as No. 1 (same as No. 1 overall for practitioners), housing affordability (a concern shared by economic developers), and also complicated permitting process and regulations.
The 2023 survey committee included Kristen Stephenson, Greater Phoenix Economic Council; Sarah Murley, Applied Economics; Jennifer Graves, Town of Gilbert; Tami Ursenbach, Mohave County; and Ryan Jones, Regional Economic Development Center at Yavapai College.
"Talent attraction continues to be a key competitive factor in economic development in Arizona, and throughout the country," Murley with Applied Economics said. "Arizona has benefitted from a high level of in-migration in recent years that have bolstered the labor force, but this year's AAED survey also highlights the strong connection between workforce attraction and housing affordability in this rapid growth environment."