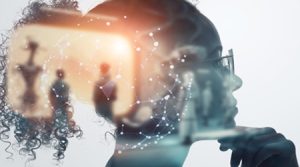 (September 26, 2023) -- The October issue of Trendreport is out!
Insight is invaluable, and this month's contributors to Trend report's Office and TMC Copper Cactus Awards knock it out of the Park!
There's no better vision than insight, so we start off this month's issue by exploring office evolution.
The Tucson Office Segment is "evolving," as Matt Thrasher of Thrasher Law Offices puts it in the Trend report this month. Thrasher then challenges the real estate community to bridge the gap between supply and demand to ensure Tucson's commercial landscape thrives. Thrasher deeply understands Tucson's blend of 'historical charm, commitment to sustainability, and forward-thinking business ecosystems.' In The Evolving Office Segment in Tucson's CRE Landscape, he foresees a "dynamic market ripe with opportunities."  
Then, in September 2023 Snapshot: Tucson Office Market Mark Irvin, CCIM, SIOR, and local office market specialist at Mark Irvin Commercial Real Estate, takes us through the changing and challenging dynamics in the market. Trend report appreciates that Mark came to Tucson 40 years ago to work in the Tucson office, medical, and investment market. Those who know Mark would say Tucson is a better place for snagging him. We wish you a Happy 40th Tucson Anniversary, Mark Irvine!
As soon as you say, "Investment activity is down," the largest office investment sale in Tucson's history occurs! Rick Kleiner, MBA, with Cushman & Wakefield | PICOR, breaks the details of the $134 million Banner North Campus sale in High Demand Continues for Medical Office Investments. That hasn't been reported anywhere that we're aware of before now.
As Jon O'Shea, Designated Broker of Vast Commercial Real Estate, reports in Medical Real Estate Still in Constant Demand, there are some good reasons for Medical Office Buildings or MOBs being in demand, and it has to do with demographics.
We are pleased to have Jason Shaltiel and Ryan McGregor of Cushman & Wakefield | PICOR join us with their insights into the High Vacancy Trend Viewed as an Opportunity. They fearlessly enter the discussion of call centers in Tucson and face what will become of these buildings. Something most of us have been wondering.
Laurel Lewis, SIOR, Managing Director with NAI Horizon in Phoenix, gives us her professional perception of the Phoenix market in Thoughts on Phoenix Office Market Trends 2023, which sounds pretty much on par with Tucson, except for being ten times larger in scale.
Then Ken Ahrens, MAI Appraiser, with Axia Appraisers, finally explains the various office classes and answers why Tucson has so few Class-A buildings in The ABCs of Office Buildings and why it matters.
Trend report occasionally, by popular demand, asks the young President, Melissa Lal, CCIM, and the more mature Co-founder of Larsen Baker, George Larsen, CCIM, to weigh in on a topic of interest to our readers. This month, they took opposing views on the office market and had a fine time trash-talking each other while opining on another thought-provoking Point / Counterpoint. Readers Beware!
With 70 percent of the Tucson office sales going to owner-occupants this past year, we bring you the best OOCRE office sales.
Last but not least, Trend report congratulates all of the nominees and this year's winners of Tucson Metro Chamber's Copper Cactus Awards, sponsored by Wells Fargo, as presented Friday evening, September 22nd, at Casino Del Sol. Please visit Pages 23-26 to see this year's winners.
Thanks to all our contributors and the Trend report team: Patti vanLeer, Michael Rossmann, Melissa Vucijevic, and Jack Paddock for making this issue possible. We look forward to bringing you November's Water in the Desert issue, and our countdown to 2024 begins next month!
Thank you to our readers for your continued support. As always, we appreciate your feedback and welcome your comments.
For Quotes on Trendreport Subscriptions and Advertising Programs: Contact: Karen Schutte, Trendreport, Managing Editor, at 520-877-2656 or trendreportaz@outlook.com