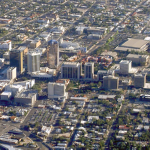 TUCSON, ARIZONA — The Sahuarita Sun is reporting that the People's Defense Initiative (PDI), a political action committee formed in November, will be launching an initiative to amend the Tucson City Code to bar police officers and other city employees from detaining people based on immigration status. It also would ban them from aiding in the enforcement of federal immigration laws unless expressly required under state or federal law. The amended code would also prevent certain collaboration between city and federal law enforcement agencies and provide for the certification of visas for some immigrant crime victims.
"(The idea) started with SB1070 and has accelerated under President Trump," said organizer Joel Feinman, referring to a state anti-illegal immigration passed in 2010. "We've reached a critical point where we need to defend our community against racist, cruel, inhumane and evidence-free immigration policies."
Since Tucson is the birthplace of the Sanctuary Movement, Feinman said it makes sense for the city to take the lead in changing laws. If successful on the city level, the group would seek to change Pima County's ordinances, he said.
People's Defense Initiative is partnering with several organizations to get the initiative on the November ballot, including the ACLU, No More Deaths, Indivisible Southern Arizona, Democratic Socialists of America-Tucson, Represent Me Arizona, Child and Family Resources and Progressive Democrats of Southern Arizona.
PDI has cooperated with Flagstaff residents working on a similar initiative and Peard crafted it so as not to violate Senate Bill 1070, Feinman said.
SB1070 requires local police officers to make "a reasonable attempt' to determine the immigration status of certain people that they pull over or detain. It also requires officers to call federal immigration authorities in certain circumstances.
Supporters of the initiative, which was written by ACLU staff attorney Billy Peard, are gathering at the Historic YMCA, 738 N. Fifth Avenue, from 2 p.m. to 6 p.m. Saturday. There will be speakers, food, music, shopping and children's activities.
It has until July 5 to collect 9,241 valid signatures of registered Tucson voters to get the Tucson Families Free and Together Initiative on the ballot.
Feinman said he believes organizers will get the needed signatures.
"I'm completely confident we'll get there. There's no doubt in my mind," he said.
Feinman, who is the Pima County Public Defender, said he is working on the initiative as a private citizen on his own time.
For full story see The Sahuarita Sun.