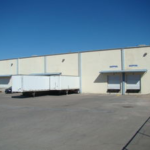 EL PASO, Texas – A Phoenix-based real estate investment firm has made its first move into the El Paso industrial market, purchasing four sprawling warehouses on the Eastside, south of Interstate 10. CBRE announced the sale of the four-building, 245,745-square-foot industrial portfolio, on behalf of New York-based Sullivan Crosby Trust. Phoenix, Arizona-based ViaWest Group purchased the portfolio in an off-market transaction for an undisclosed price.
Christian Perez Giese, William Caparis, Anthony Mash and Arturo De la Mora, with CBRE's El Paso office, represented the seller.
The buildings are approximately 50 percent occupied—short-term tenants bring it to 75 percent occupancy. They are located south of Interstate Highway 10 in the central El Paso submarket. According to CBRE Research, the central El Paso submarket is approximately 94.7 percent occupied as of Q4 2014.
"We are very excited about our first purchase in El Paso. This acquisition is part of the ViaWest Southwest Fund and is our first purchase outside of Phoenix with the Fund. We are hopeful that this is the first of many as we expand further into El Paso, Salt Lake City, Las Vegas, and some other southwestern cities. This property fits all the attributes that we are looking for: a solid, infill location; excellent clear height and truck court; the ability to add value immediately; and a great brokerage team with the CBRE guys," said Steven Schwarz, Principal at ViaWest Group.
"The portfolio is made up of good, quality assets. Once a few deferred maintenance items are addressed, these assets will be highly competitive," said Mr. Perez Giese, Senior Vice President and Director of CBRE's El Paso/Ciudad Juarez office.
This is the first El Paso-area acquisition for ViaWest Group. A host of rehabilitation projects are slated for the properties, including new roofs, landscaping, fencing, equipment replacement and more.
ViaWest has selected CBRE to lease and manage the properties. Mr. De la Mora will lead the leasing assignment.